NIAE APPLAUDS LANDMARK FOR RAISING BAR OF EXCELLENCE IN THE EDUCATION SECTOR
The National Chairman, Nigerian Institution of Agricultural Engineers (NIAE), Dr. Shuaibu Musa on Monday 16th September 2019, has applauded Landmark University's agrarian vision and its impact on the nation's education sector, describing it as a panacea to the nation's economic challenges.
Speaking at their courtesy visit to the Management of Landmark University prior the opening of the Institute's 40th Annual International Conference and AGM tagged 'Omu-Aran 2019', Dr. Shuaibu stated that NIAE agrees with the Chancellor of the institution Dr. David Oyedepo, on his submission that sustainable food production is the only way out of the nation's economy hiccups while adding that the Institute will be ready to collaborate with Landmark in achieving this feat. "We quite agree with the Chancellor that there is no software for food production, you have to cultivate. NIAE will ensure that the vision comes to reality". Dr. Shuaibu, who appreciated those working in Landmark assiduously to ensure that the bar of excellence is being raised, further urged members of Management led by the Vice-Chancellor, Professor Adeniyi Olayanju to always advance the course of Landmark University being the hope of agricultural practices in the nation. He revealed that the international conference will address certain sustainable development challenges in the agriculture sector.
Earlier, the Vice-Chancellor Professor Olayanju in his welcome address had received the National Executives of NIAE and the Conference Organising Committee (COC) on behalf of the Chancellor, Dr. David Oyedepo. He described the unwavering passion of the Chancellor to see the nation feeds itself as the engagement of Landmark University while expressing the delight of the Chancellor in the conference which he believed would be advancing the vision of the University in particular and in general generating potent policies that will set Nigeria in an enviable position in the comity of global economy.
The courtesy visit which was attended by participants from Canada, India and Nigeria has top Agricultural Engineers in attendance including Professor Michael Ngadi from McGill University Canada; Dr. Darrin Drollinger, the Executive Director, American Society of Agricultural and Biological Engineers; Dr. Indra Mani, President Indian Society of Agricultural Engineers, Delhi; the wife of the Deputy Governor Delta State, Engr. (Mrs.) Ebierin Otuaro, member NIAE; the Executive Director National Centre for Agricultural Mechanization, Dr. Yomi Kasali and the immediate past president Nigerian Society of Engineers (NSE), Engr. Ademola Olorunfemi among others.
The team later proceeded on a courtesy call to the palace of Olomu of Omu-Aran, Oba Abdulraheem Adeoti.
Today @ LMU
Omu-Aran, NGclear sky 18.84oC
See More >>
Subscribe to our Newsletter
Get the latest news and updates by signing up to our daily newsletter.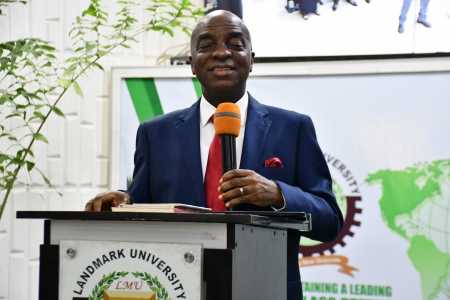 Story of the week
LANDMARK HOLDS 2022 STAFF EXECUTIVE ADVANCE