LANDMARK VC BECOMES THE PIONEER NATIONAL VP OF THE NEWLY INAUGURATED NHPA
The inauguration of the Nigerian Hydropower Professional Association (NHPA) which took place in Ilorin, Kwara State on the 2nd of May, 2019 with a set of Pioneer EXCO members led by Engr. Imo Ekpo, FNSE as the National President; Engr Prof. Musa Alabe, FNSE, Vice President I and Engr Prof. Adeniyi Olayanju, the Vice Chancellor of Landmark University, as Vice-President II. Others are Engr Prof B. F. Sule, FNSE as Chairman BoT and Engr. Dr. L. K. Maroof as the Executive Secretary.
The Nigerian Hydropower Professional Association (NHPA) is a non-profit organization working with a network of members drew its members from the eight (8) hydro-ecological zones of Nigeria and partners to advance sustainable hydropower in Nigeria. Its objectives include providing a technical, regulatory and political information source, promoting hydropower and increasing awareness of its quality and scope in Nigeria, providing detailed guideline expertise and industry knowledge, and providing educational resources and forums for collaboration.
The inauguration of the NHPA did not only bring the appointment of Landmark Vice-Chancellor, Professor Adeniyi Olayanju as National Vice-President of the association but also opened a new vista and array of opportunities for the University, chief of which was a workable partnership with the association to provide expertise for the development of the dam under construction for hydropower generation.
In this regard, the National Center for Hydropower Research and Development (NACRED) under whose auspices the inauguration of the NHPA initiated a memorandum of understanding with Landmark in furtherance of their willingness to work with the University on the assessment of the feasibility of generating hydropower for the University and its environs from the dam under the aegis of Lower Niger River Basin Development Authority (LNRBDA). There was also a call to the LNRBDA Executive Director, Engr. Dr. A.S. Aremu, on the channelization of the dam backflow within the University Land. The Landmark team took advantage of the association's visit to the UNILORIN Lakeside Dam developed for recreation purpose with the aim of creating the similar facility after the completion of the LNRBDA dam.
Among many other opportunities also was the recognition of Landmark as a partner institution for NHPA in the establishment of Young Hydropower Professional Forum which is expected to take off in the eight hydro-ecological zones of Nigeria.
Reinforcing its relevance to the association, Landmark registered as a corporate member of the association, having nominated five (5) members of its Faculty – Prof. Adeniyi Olayanju; the Dean, College of Engineering, Prof. C.O. Osueke; the HOD Electrical and Information Engineering and Chairman, NSE, Omu-Aran Branch, Prof. F. Ibikunle; Dr. M.F. Amodu, and Engr. O.D. Raphael from the Department of Agricultural and Biosystems Engineering – as the foundation members.
Today @ LMU
Omu-Aran, NGclear sky 20.37oC
See More >>
Subscribe to our Newsletter
Get the latest news and updates by signing up to our daily newsletter.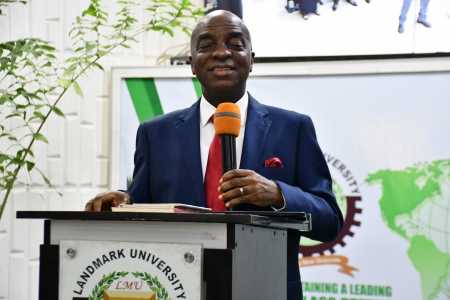 Story of the week
LANDMARK HOLDS 2022 STAFF EXECUTIVE ADVANCE