LMU STUDENTS KICK OFF NEW ACADEMIC SESSION WITH HIGH EXPECTATIONS
On Tuesday 21st August, 2018 Landmark University organized a Welcome Assembly for the Students signifying the commencement of 2018/2019 Academic Session with rejuvenated hope most especially by the Fresh Students. The session commenced with a general chapel service meant to commit the affairs of the new academic session into God's hand.
In his welcome address, the Vice-Chancellor, Professor Adeniyi Olayanju who expressed his heart of gratitude to God Almighty for sparing the lives of all through the holiday and ordering the steps of everyone to Landmark University noted that the new session promises awesome opportunities. "As we have come with a heart of gratitude to God for His marvelous deeds in our lives, so are we grateful to our Chancellor, Dr. David Olaniyi Oyedepo, and the Proprietor Base for their massive support to the University community as a whole. It is with a great pleasure that I, specially welcome Our New Students (100Level) - on board as you join the realm of Kings and Queens of this great institution to pursue your education."
Professor Olayanju reiterated that the Institution is a vision-based University with a spirit-filled ambience where students can study with the help of God, and their lives would be transformed to impact the world in turn. He assured fresh students that they are at the right place and at the right time, where they would be raised as an army of reformers and a generation of solution providers. "Excellence is not only our maxim but our goal tenaciously pursued to reality. Spirituality is our guiding principle. This underpins our success story that may have attracted you to our amazing community of a new ground breakers. To the Returning Students, I appreciate God for His love, faithfulness and protection over your lives, even as I pray for a better and itch free stay on campus as you continue in pursuit of your academics endeavors. Kindly note that we look forward to having a best campus experience this session without compromising our creed and It is important to stress that the University will not compromise her zero tolerance for any misconduct, as any student guilty of any act of indiscipline will face the consequences."
He however heartily welcome all and graciously hand them over to the teaching and inspiration of the Holy Spirit for high level ingenuity and excellent academic performance as they start with the required zest in the 2018/2019 academic session, and complete it in flying colors.
Speaking earlier, the Registrar Dr. Ezenwoke Azubuike welcomed students, staff and faculty to the new session where he enthused that God is set to do a new thing in the University. He enjoined all to be hopeful as the session promises to be different in all ramifications. "This session is set to offer you a new beginning to correct the mistakes of the past and set you on a new path of success for the future in the order of Isaiah 43:19."
Also lending their voices to charging the students for a fruitful academic engagement for the session, were the Deans of Colleges, Post-graduate School and Student Affairs.
After a session of prayers and praise to God, the Chaplain, Pastor Tope Johnson in a brief exhortation stated that success is a function of decision that is predictable, so also failure. "Your intention determines what you give attention to. Your intention also determines your direction and you better focus on what your intention is. If it is First Class then focus on it diligently, as only diligent men succeed in life." Citing Psalms 127:1 he noted that it takes the grace of God to be diligent in life. Pastor Johnson added that it takes prayer to get God involved in one's affairs, as altar of prayer is the altar of transfiguration and transformation. "Luke 9:28, Genesis 18:30-33, Jeremiah 33:3 and Romans 4:16-20, productivity is a function of spirituality and the altar of prayer is the altar of divine help."
Today @ LMU
Omu-Aran, NGclear sky 20.37oC
See More >>
Subscribe to our Newsletter
Get the latest news and updates by signing up to our daily newsletter.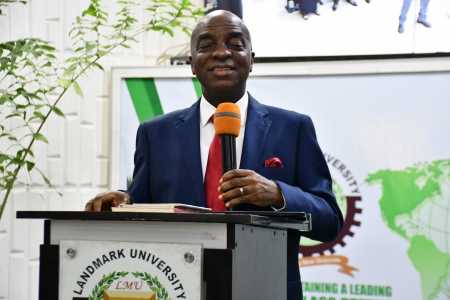 Story of the week
LANDMARK HOLDS 2022 STAFF EXECUTIVE ADVANCE