LANDMARK VC SETS NEW ACADEMIC SESSION AGOG WITH APPRECIATIONS
It was indeed a 'wow' atmosphere as the Vice-Chancellor of Landmark University, Professor Adeniyi Olayanju expressed profound gratitude to God for making the 2019/2020 Academic Session a reality. His delight was much more expressed when he noted that the break was indeed a refreshing time for all, as those who travelled returned safely and are all ready to face the challenge of the new session. In his words "I begin my remarks by saying 'To God Alone be ALL the glory' for His awesome presence abiding with us as individuals and as a University. I do not take this Grace for granted for the great accomplishment, events and progress recorded in the 2018/2019 Academic Session. Here we are gathered again after a long Refreshing break to officially commence our work for 2019/2020 Academic Session".
Professor Olayanju expressed a grateful heart to God for His marvelous works to the University community and appreciated the Chancellor, Dr. David Olaniyi Oyedepo, for his massive support to the University community as a whole. He counted it as rare, a privilege to have him as a father who cares for us at all time, always ready to encourage and motivate all and the University Community at large through his good deeds, stirring up the urge for breaking new grounds in accordance with the vision and mission of Our University. He also deeply appreciated all members of Management (Outgoing and Incoming), Faculty and Staff of the institution for their contributions towards enormous development of the University recorded thus far, affirming that their collective efforts in moving Landmark forward in terms of achievements.
"Last Session, many organizations got attracted to LANDMARK by signing MoUs and indicated to collaborate with us. Many citadels of learning (Colleges) were visited on partnership bid by promoting LANDMARK during their graduations, while many more are on the request list to partner with the University based on undiluted integrity we have together built over the years. No doubt, our visibility drive has started yielding commendable results".
He, moreover, noted that it was indeed great working with all staff of Landmark University, expressing confidence that he together looks forward in working harder with all to earn the University greater creditability and great results this semester/session. He concluded that the audacious agenda ahead of all which are achievable as long as their commitment to due diligence at work is not relentless. "With the help of God, our task this Alpha Semester is achievable, therefore, I call on every one of us to deploy unquenchable passion and action towards engendering the best results always".
The general gathering of the University community witnessed the announcement of incoming members of Management who were prayed for by the University Chaplain, Pastor Temitope Johnson.
The Vice-Chancellor, Professor Adeniyi Olayanju giving his remarks at the meeting

Cross session of University Management at the welcome assembly

The Vice-Chancellor appreciating the immediate past Registrar, Dr. James Ndako for his contributions to the University during his tenure

The Vice-Chancellor announcing the appointment of Ms Fola Oyinloye as the New Registrar

Cross Session of Faculty and Staff at the event

The University Chaplain, Pastor Temitope Johnson, on behalf of the Chancellor, Dr David Oyedepo, praying for the newly inaugurated members of Manageme
Today @ LMU
Omu-Aran, NGbroken clouds 25.33oC
See More >>
Subscribe to our Newsletter
Get the latest news and updates by signing up to our daily newsletter.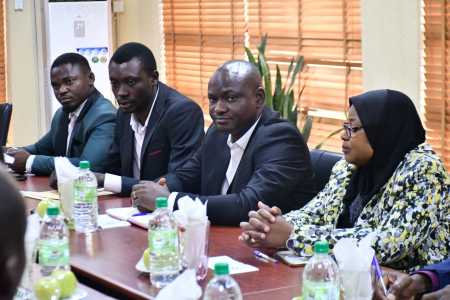 Story of the week
SON KWARA STATE SEEKS COLLABORATION WITH LANDMARK