LANDMARK INDUCTED NEW FACULTY AND STAFF
"It is not accidental that you came on board when the Vision for a World-Class status was caught; it is rather essential that you prove your onion as a partner in progress towards actualizing the vision". These were the words of the Vice-Chancellor, Professor Adeniyi Olayanju at the induction of Faculty and Staff of the University, held at the International Conference Centre on 24th January, 2019
While intimating them with the purpose of the Induction, he averred that Landmark is a place for them to be, to learn and to live responsibly in order to give deserving meanings to the lives of others worldwide through providing food security. He added that, riding on the wave of uncompromising quest for excellence with improving accomplishments, Landmark is no doubt a cynosure of all eyes, even as audacious as the vision is, talk more of her compelling mission, cum lofty core values, the University is attracted to a great deal of people across the globe from all walks of life, striving to partner with her to drive for food security which is a sine qua non for existence, growth and development of any nation.
"Teeming prospective applicants to Landmark on an average of one hundred applications per day (about 30,000 per year) is a proof of relevance and impact the University commands. This is why I specially congratulate you on your success at our various screening points culminating on your receipt of employment letter. You are apparently singled out by merit from the crowd to be of good service in an institution that values collective approach to proffering solutions the society deserves."
Professor Olayanju further noted that it is rather essential that they prove their onion as partners in progress towards actualizing the vision of the university. He added that their arrival should not rival with the team on ground, as the Institution believes that cooperation among the workforce would take the University further and higher in achievement than what competition could offer the organization. "While cooperation unites and builds, competition divides and destroys. It is wise to build synergy and bring our collective potentials to the round table in the spirit of unity to conquer our common enemy and live a life worthy of praise to our creator, God almighty."
In a later development, the Vice-Chancellor in his presentation titled, "Partnering with Landmark in achieving Vision for a World-Class status, Understanding and espousing the overarching Vision of the University," reiterated that Covenant University got the prophetic verdict of vision 10:2022 from the Chancellor, Dr. David Oyedeop in 2012 and it is already becoming a reality, as Landmark University is also ready to key-in noting that both Universities are of the same gene.
After signposting the areas of fundamental interest in the drive towards the realization of vision for a World-Class status, he enthused the participants to make most of the assorted visionary and inspiring lectures that would enable them fulfill destiny in Landmark and the world in general.
The Registrar, Dr. James Ndako speaking on "Driving Efficiency - Administrative Structures and processes at Landmark," he stated that the Registry of Landmark University is saddled basically with the responsibilities of managing students' academic activities from admission to convocation and staff welfare from entry to exit, with scope of work that is as wide as it is diverse. He noted that there are 8 component units seamlessly linked and centrally coordinated with a single line of reportage to the Registrar, as they assist in ensuring a prudent management of the resources and asset base of the University through curbing wastes in all its ramifications and the proper channeling of resources which are in line with the aspirations of the Proprietors' platform in line with stipulated policies and administrative processes.
Other presenters were the Director, Financial Services, Fadoju, Oludare Samuel who spoke on "Financial Responsibilities of Faculty and Staff- Monthly Deductions from Salary", Director, Physical Planning and Development, Arch. Olaonipekun Oluwasegun, who spoke on World Class Approach to Infrastructure and Facility Usage, and that of the University Chaplain, Pastor Tope Johnson, on Spirituality, an Essential in Attaining Excellence in Life and Career.
The Vice-Chancellor, Professor Adeniyi Olayanju delivering his lecture

The Registrar, Dr. James Ndako taking his turn

The Director, Financial Services, Mr. Fadoju, Oludare Samuel

The Physical Planning & Development, Arc. Olaonipekun Oluwasegun

The Chaplain Pastor Tope Johnson

The Deputy Registrar, Miss Fola Oyinloye intimating participant with the purpose of the programme

Members of Management and participants in a group photograph
Today @ LMU
Omu-Aran, NGclear sky 20.53oC
See More >>
Subscribe to our Newsletter
Get the latest news and updates by signing up to our daily newsletter.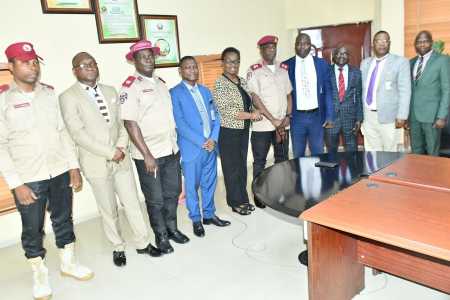 Story of the week
LANDMARK UNIVERSITY RECEIVES NEW FRSC KWARA SECTOR COMMANDER