LANDMARK UNIVERSITY HOSTS NCC ADAPTI TRAINING
The National Communication Commission (NCC), as part of her Corporate Social Responsibility CSR, has sponsored and monitored the Advanced Digital Appreciation Programme for Tertiary Institutions (ADAPTI) training programme through the Digital Bridge Institute (DBI). The objective of the exercise was to equip academics and non-academics of tertiary institutions in the country with practical skills in Microsoft Word, Excel, Power Point software applications, 'Access to the Internet' and SPSS for improved productivity and research. Landmark University Faculty and Staff benefited from such training between 24th and 28th June 2019 where over 100 participants of them were trained.
The Vice-Chancellor, Professor Adeniyi Olayanju in his remarks at the opening ceremony of the programme stated that Landmark University appreciates the privilege of being part of the training. He, further reiterated that the vision of the University of being a leading world class University is going to be partly achieved through capacity building and that SMART technologies can contribute immensely to driving quality research output of the University which is one of the benefits the ADAPTI training programme. While declaring the programme open, he urged the participants to make utmost use of the training to advance themselves and the University, he thanked the Facilitators from DBI and NCC for their contributions in this regard.
Today @ LMU
Omu-Aran, NGclear sky 18.84oC
See More >>
Subscribe to our Newsletter
Get the latest news and updates by signing up to our daily newsletter.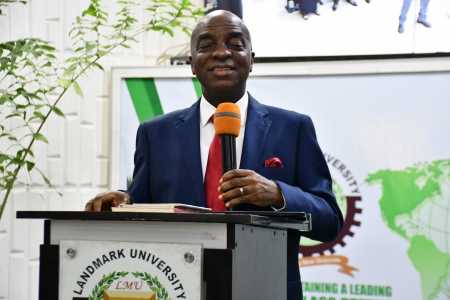 Story of the week
LANDMARK HOLDS 2022 STAFF EXECUTIVE ADVANCE