LANDMARK SIGNS MOU WITH KWARA NACOTAN
As part of her vision to restore the dignity of the Black race, Landmark University on Tuesday 14th January, 2020 signed a Memorandum of Understanding (MOU) with the National Cotton Association of Nigeria (NACOTAN) Kwara State Chapter to commence cotton production at the University farm.
In his remarks, the Vice-Chancellor, Professor Adeniyi Olayanju who made known the support of the proprietor base of the University to the project, stated that one hundred hectares of land has been approved for the first phase. Professor Olayanju revealed that the production would be understudy by the institution. He expressed delight on the attempt made by the Nigerian government to revive the textile industry by engaging in such a laudable project as one in tandem with Landmark agrarian vision. While commending the foresight of the Kwara State NACOTAN Executives who are mainly youth, the Vice-Chancellor also used the medium to beckon on young ones to look beyond white collar jobs and invest in the yet untapped goldmine on the mother earth through farming. "We are encouraged that youth are involved in commercial farming which made us believe you are sending right signals to other youth in the continent as well as injecting the youthful passion into the project. The project is a form of Community impact for us and we are looking at adding values to the agricultural sector", He added.
Responding on behalf of other executives, the Kwara State Chairman of the National Cotton Association of Nigeria (NACOTAN) Mr. Adeshina Bello who expressed his team's readiness to work with Landmark University. He thanked the Management for responding swiftly to their request thereby promising to go by the rules stipulated in the terms of agreement. Mr. Adeshina made known the Association's readiness to collaborate with Landmark Farms and other relevant stakeholders on the project.
Cotton, one of the major cash crops in Africa, grown in Northern and Southern Nigeria such as Kano, Kaduna, Ondo, Oyo, Kwara, Kastina, Jigawa, Ogun, Kebbi, Sokoto and Zamfara States, was a major source of revenue through the exportation value it holds in the Nation. However, the advent of oil reduced the production and socio-economy value to the barest minimum thereby leaving the textile sector in a shadow of itself. But all hopes aren't lost as the government is striving to revive cotton seed production and in this sense advising farmers on quality cotton seeds, enough input, and other related vital information as it will help in generating a better outcome.
Presently, the National Cotton Association of Nigeria has over 3,000 registered members in Kwara State and has its National Headquarters in Kaduna State.
Today @ LMU
Omu-Aran, NGclear sky 19.74oC
See More >>
Subscribe to our Newsletter
Get the latest news and updates by signing up to our daily newsletter.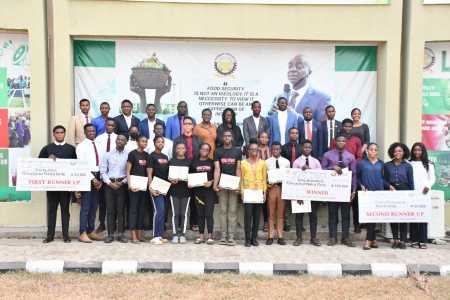 Story of the week
LANDMARK HOLDS INNOVATIVE CHALLENGE TOWARDS