LANDMARK RECEIVES MOUNTAIN TOP UNIVERSITY DELEGATES
On Tuesday 17th November, 2020, delegates from the Mountain Top University, Ogun State visited Landmark University to understudy the institution's exploits especially in the areas of Research and Publications. The team which was received by some members of Management and Staff led by the Vice-Chancellor, Professor Adeniyi Olayanju, held a technical meeting in line with the purpose of the visit.
During an interactive meeting of the representatives of Landmark University with the Mountain Top Team on Wednesday 18th November 2020, the Vice-Chancellor, Professor Adeniyi Olayanju in his welcome remarks, expressed delight in receiving the delegates from Mountain Top and stated that achieving a world-class status is not a wishful thinking, but requires commitment, hard work and sacrifices. Professor Olayanju also celebrated the Vice-Chancellor Mountain Top University, Professor Elijah Ayolabi for his tenacity and passion to take Mountain Top University to a higher level in ranking, publication and research.
The Vice-Chancellor therefore stated the readiness of Landmark to collaborate with Mountain Top as requested by its delegates in the areas of Research, Grants, Publications, Rice Plantation and some other projects. Professor Olayanju added that as faith based Universities; he believed that the future of the education sector in the continent belongs to them hence the need to perform to expectations by doing it right starting from now.
While intimating the Landmark team on the purpose of their visit, the team leader, Professor Ayo Olalusi, Dean College of Basic and Applied Sciences, Mountain Top University, appreciated Landmark University Management for granting their request to visit the institution and expressed gratitude to the Vice-Chancellor Professor Adeniyi Olayanju for his immense contribution at their University's virtual seminar series as a presenter. Professor Olalusi disclosed that Mountain Top's visit to understudy Landmark was a fall out of the Landmark Vice-Chancellor's presentation at the seminar. "The seminar really impacted our University that we immediately started acting on it", he asserted.
Professor Olalusi revealed at the meeting that his team visited Landmark to understudy strategic operations that underlie its research and publication accomplishments within a short time. According to him, another area they would like to explore is the rice project; Professor Olalusi stated their University has a food college where the rice project will be embarked upon.
Mountain Top University later presented an award of recognition to Landmark University for their contribution to restoring the dignity of the black race. Also, an excellent award was also presented to the Vice-Chancellor, Professor Adeniyi Olayanju in recognition of his outstanding support to Mountain Top University.
The team on Tuesday had earlier embarked on a facility tour of relevant departments and sites in Landmark University some of which are the rice plantation, the Exhibition Center and the Landmark SDGs Stands.
Today @ LMU
Omu-Aran, NGclear sky 20.37oC
See More >>
Subscribe to our Newsletter
Get the latest news and updates by signing up to our daily newsletter.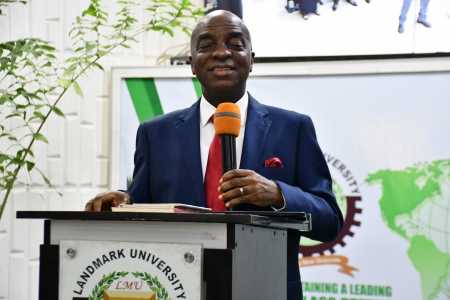 Story of the week
LANDMARK HOLDS 2022 STAFF EXECUTIVE ADVANCE