SAI EDEN SEEKS PARTNERSHIP WITH LANDMARK UNIVERSITY
On Tuesday 22nd September 2020, Management of Landmark University, led by the Vice-Chancellor, Professor Adeniyi Olayanju, received representatives of the Sai-Eden Moringa Production Company in view of collaboration on Moringa production.
While making a presentation to Management of Landmark, the Company's Kwara State Coordinator, Mr Kehinde Babalola reiterated not only the nutritional but also the economic value as well as the market potential of Moringa products, noting that both its leaves and seeds are extremely useful and on high demands globally. Mr Babalola pointed that out of the 12 species of Moringa, "the most widely cultivated species is Moringa Oleifera because it wins out over the other species in terms of leaf nutritional yield and quality, antioxidant activity and a lot of other aspects of interest." He said further that the Moringa Oleifera variety first yield of leaves starts in four (4) months while the seeds are in seven (7) months basis after planting and gives a commercial yield for many years as long as 30-50 years.
In view of the partnership, Mr Babalola noted that, with the cultivation of the superior genotype variety of Moringa oleifera, a minimum of 30 hectares of land is required from the University for the moringa production. Assuring the University of a mutually beneficial partnership, Mr Babalola said his company has been at the vanguard of moringa cultivation, manufacturing and marketing in Nigeria, by empowering farmers not only through the provision of inputs and technical support in the cultivation but also facilitating a ready market for the moringa resources.
While making his remarks, the Vice-Chancellor, Professor Adeniyi Olayanju highlighted the impact of the University in society that has signposted her as the cynosure of agricultural development in Nigeria. He appreciated the company for recognising the University's passion for the agricultural revolution. The Vice-Chancellor noted that the paradigm shift to soil economy validates the potentials inherent in agriculture to produce the desired wealth. He, therefore, expressed joy over the prospect of the collaboration. The Vice-Chancellor requested that the company's proposal be re-evaluated in view of a workable partnership.
Earlier, the Registrar, Miss Fola Oyinloye had welcomed the guests to the University, noting her strategic position in the education arena as the first and only private agriculture-based University in Nigeria aiming to become a leading world-class University by spearheading an agrarian revolution on the continent of Africa.
In attendance at the meeting were the DFS, Mr Dare Fadoju; the DCAS, Profesor B.O. Bamiro (Represented by Dr Abolusoro); HOD, ABE, Dr J. Ojediran; Chair, LUCAM, Professor S. Ajisegiri; Chairman T&R Board, Dr K. Adegbite; Chairman, Commercial Farm Board, Dr R. Animashaun; Commercial Farm Manager, Dr Friday James; and Coordinator, University Linkage Office, Dr Dunsin.
Today @ LMU
Omu-Aran, NGclear sky 18.84oC
See More >>
Subscribe to our Newsletter
Get the latest news and updates by signing up to our daily newsletter.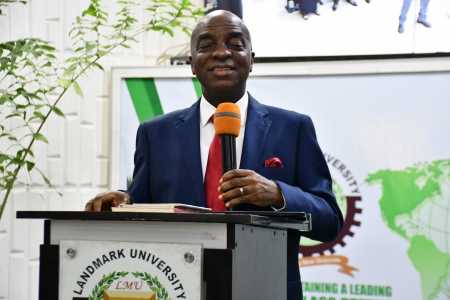 Story of the week
LANDMARK HOLDS 2022 STAFF EXECUTIVE ADVANCE