MANAGEMENT INAUGURATES MORE WORKING COMMITTEES
In furtherance of its effort towards advancing the frontiers of its visionary drive through excellent operations and best practices, Landmark University Management led by the Vice-Chancellor, Professor Adeniyi Olayanju, on Monday 21st October 2019, inaugurated more working committees, namely: Landmark Aqua Committee chaired by Arc. Olusegun Olaonipekun, Landmark University Community Development and Impact Initiative Committee (LUCDII) chaired by Dr. John Ojediran and Landmark University Equipment Committee chaired by Professor Makanjuola Oki.
In his remarks, the Vice-Chancellor, Professor Adeniyi Olayanju urged the members to work as a team with the consciousness of driving the agrarian mandate of the University. He reiterated the need to harness all opportunities to yield desired result. According to the Vice-Chancellor, the committees are interrelated, therefore, should endeavor to work towards impacting on the immediate community while praying to for them to contact divine ideas and strength to run effectively.
The committees are expected to work with the Terms of Reference and report to Management accordingly. The event was rounded off with warm acceptance speeches of the committee chairs and pleasing responses from members of the committees.
Today @ LMU
Omu-Aran, NGclear sky 20.37oC
See More >>
Subscribe to our Newsletter
Get the latest news and updates by signing up to our daily newsletter.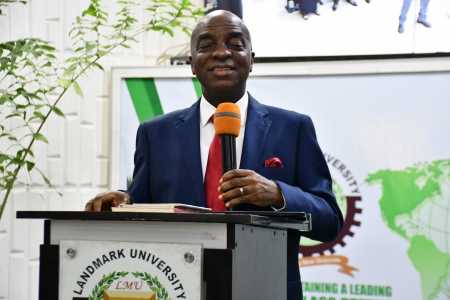 Story of the week
LANDMARK HOLDS 2022 STAFF EXECUTIVE ADVANCE