MEDICAL LABORATORY SCIENCE COUNCIL OF NIGERIA (MLSCN) VISITS LMU
On Friday, 11th December 2015, the Management of Landmark University received the representatives of the Medical Laboratory Science Council of Nigeria (MLSCN). The purpose of the visit was to carry out an assessment of the facilities in the Medical Laboratories of the University in preparation for the accreditation by the Council. The Council is a Statutory Regulatory Agency for the practice of Medical Laboratory services in Nigeria, and is committed to maintaining a culture of quality in providing Medical Laboratory services to the public.
The Registrar, Dr. Daniel Rotimi welcomed members of the Council on behalf of Management and described Landmark University as a unique institution setting standard for others to follow. "Our students are called Kings and Queens while our graduates are fondly referred to as Pathfinders and are trained to set standards wherever they are."
The team leader of the Council, a Deputy Director, MLSCN, Elder Onyenaucheya Mbuko congratulated the University for her achievements thus far. He expressed delight in the quality of facilities available at the Medical Laboratories of the University. He appreciated the input of the Chancellor, Dr. David Oyedepo and the Vice-Chancellor, Professor Aize Obayan, in promoting excellence as demonstrated in the vision and management of the University. He remarked, "We are impressed with the quality of staff and the functional equipments in the Laboratories; we know that the Chancellor and Vice-Chancellor will stop at nothing to maintain excellence". He further made a presentation to members of Management, on the areas that needed to be improved on, in line with the global best practices.
In her remarks, the Vice-Chancellor appreciated the representatives of the Council and assured them of continuous improvement at all levels of the University's operations. She commended the efforts of the Council for driving quality in the Medical Laboratory Sciences. She reiterated that the Proprietor base would stop at nothing to ensure that quality is continuously driven because we want to show our students how things are done , so that upon graduation, they would showcase excellence and exemplary leadership skills to the whole world. She enjoined members of the Council to consider themselves as partners with the University, as their suggestions would always be welcomed.
The Deputy Vice-Chancellor, Professor Enoch Oyawoye gave the vote of thanks and wished the representatives of the Council a "glory to glory" experience for visiting the University in the season of Shiloh 2015.
Today @ LMU
Omu-Aran, NGclear sky 19.71oC
See More >>
Subscribe to our Newsletter
Get the latest news and updates by signing up to our daily newsletter.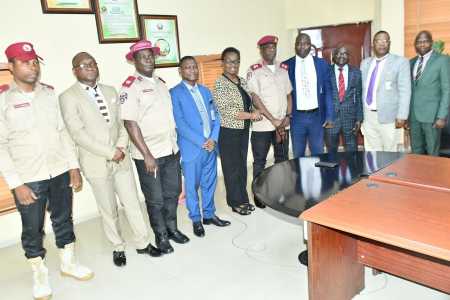 Story of the week
LANDMARK UNIVERSITY RECEIVES NEW FRSC KWARA SECTOR COMMANDER