EVERY STUDENT MUST HAVE A TASTE OF AGRICULTURE
The Chancellor and Chairman Board of Regents, Landmark University, Dr. David Oyedepo emphasized the commitment of the University to ensuring all students who passed through the University have a taste of agriculture in line with its visionary drive towards curbing poverty and hunger.
The Chancellor gave the charge at the joint 10th and 2nd Matriculation ceremony for undergraduate and postgraduate students on Friday 15th November, 2019. He urged the students to be committed, responsible and fully ready to sacrifice their time and energy in order to attain the desired academic excellence. He said it was with such commitment to agriculture that the students could play the role expected of them in solving the nation's hunger, poverty and food insufficiency challenges. According to him, that is why every undergraduate student in every department are made to go through a diploma programme in Agripreneurship during their course of study.
"It is common knowledge that, food security is a global concern today and we in this part of the world are the worst hit. There is no substitute for food as far as human existence is concerned; no matter the state of the economy of any nation, the last thing to remove from the national budget is food. If we must survive as a people, in the face of impending global food crisis, we must learn to engage in intensive agricultural endeavours.
"Nothing tangible could be accomplished without commensurate inputs and sacrifice. Here at Landmark University, we believe that there is nothing extraordinary on its own, that one's extraordinary input that makes it so. That no world-changer runs a normal schedule and that there is no star without a scar and the scar of every star is sacrifice. We believe that every accomplishment is at the cost of commitment; that every highflyer is known to be a hard worker. That no one ever gets out of life more than what he puts into it," he said.
While giving his welcome address, the Vice-Chancellor, Professor Adeniyi Olayanju, said the University had been receiving avalanche of accolades and testimonies from different quarters as a proof of its commitment to excellence in service delivery.
"Exploits of both faculty and students have continued to elicit recognitions, prizes and award nationally and internationally. Ours is a forward-looking and solution-seeking institution that has the potential to save and improve lives by uniting brilliant minds across discipline to tackle the world's greatest challenges," he said.
Professor Olayanju praised the leadership of the institution's host community of Omu-Aran led by its traditional ruler, Oba Abdulraheem Adeoti, for the support towards actualizing its vision and objectives. A total of 838 undergraduate and 65 postgraduate students, were matriculated for the 2019/2020 academic session. The matriculated students cut across the institution's four colleges namely; Colleges of Agriculture, Engineering, Pure and Applied Science and Business and Social Sciences.
Today @ LMU
Omu-Aran, NGlight rain 29.25oC
See More >>
Subscribe to our Newsletter
Get the latest news and updates by signing up to our daily newsletter.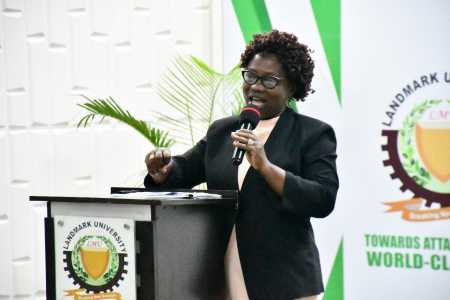 Story of the week
ACTING VC UNVEILS URGENT ACTION PLANS TOWARDS VISION REALIZATION