LANDMARK HOLDS MAIDEN INTERNATIONAL DAY OF MATHEMATICS
Further ascertaining her commitment to being a leading world-class institution, Landmark University on Friday 13th March 2020, held Maiden International Day of Mathematics under the auspices of the Department of Physical Sciences, College of Pure and Applied Sciences.
In his welcome address, while speaking to the theme of the maiden celebration, "Mathematics Is Everywhere", the Vice-Chancellor, Professor Adeniyi Olayanju stated that for something to be everywhere, it must be seen, felt and applied always regardless of the location. The Vice-Chancellor who simplifies Mathematics as counting to a layman revealed that it has been in existence since the creation of the world and reflecting in the daily activities of man. Speaking further, he added that "Mathematics is always around us, present in different forms. From the wake up time, to reading time on the watch, reading a date on a calendar, making a phone call, cooking in the kitchen, counting money, managing resources, traveling from one point to another, exchanges of currency, noting mileage of one's car, roll calls, marking scripts and grading students, collating exam scores and determining results, etc. In all these, counting is done and calculation is involved, both of which are integral part of Mathematics".
Professor Olayanju further described Mathematics as a discipline which involves calculation, computation, solving of problems, among others. He added that it is reputed for its goal of exactness, precision, systematism and logicality. "It is not out of place to refer to Mathematics as a science of revelation, because it is a tool for revealing hidden patterns that help us in understanding the world around us," he said.
Speaking earlier, the Registrar, Miss Fola Oyinloye encouraged participants who were mainly secondary school students to develop interest to study mathematics assiduously; this she said will enhance their learning abilities in their various disciplines. Miss Oyinloye noted that the essence of the maiden event was to demystify mathematics against the difficulty attached to the subject while she urged the participants to make the most of their presence at the event by developing passion afresh to studying mathematics.
In his presentation, the Guest Lecturer, Professor A.T. Oladipo, the Sean College of pure and Applied science, LAUTECH spoke on the theme of the International Day of Mathematics which is "Mathematics is Everywhere" made it known that mathematics which has its origin from Egypt from an usual occurrence of Nile flooding in Greek is called mathemata which means things that are learned. The guest speaker in his lecture explained how mathematics is related to human's daily activities which do not only include professional fields of Science, Art, Business, and Religion but also applicable in music, football, trading, medicine, dance, among other skilled and unskilled profession.
He, thereafter, admonished teachers of mathematics at all levels to simplify the subject to attract the interest of the younger ones to the programme in the country. While eulogizing the efforts of Landmark University at organizing such an educative programme, Professor Oladipo charged other institutions to learn from Landmark to make laudable community impacts for the sake of the upcoming generation.
Highlight of the programme of the International Day of Mathematics was the mathematics competition which drawn participants from different secondary schools within Omu-Aran. Eight schools participated in the competition wherein the best 10 students from these schools were awarded cash and gift prizes. Also, 3 over all best schools were selected based on the performance of their students and were awarded cash prizes, Landmark University Secondary School took the first position, followed by His Grace International School and ECWA Secondary School in the 2nd and 3rd positions respectively.
Today @ LMU
Omu-Aran, NGlight rain 30.15oC
See More >>
Subscribe to our Newsletter
Get the latest news and updates by signing up to our daily newsletter.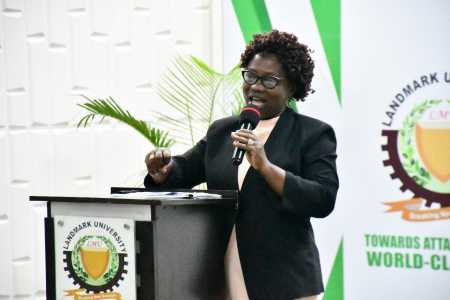 Story of the week
ACTING VC UNVEILS URGENT ACTION PLANS TOWARDS VISION REALIZATION