MANAGEMENT RECEIVES LANDMARK UNIVERSITY ALUMNI EXECUTIVES
On Monday 22nd of February, 2016, the University Management received the Executives of the Landmark University Alumni Association. Addressing the distinguished Executives of the Association, the Vice-Chancellor, Professor Aize Obayan applauded them for the initiative to give back to their alma mater and the zest to carry the emblem of the University. She noted that their move to have representation at the University's events would serve as visionary lenses to both internal and external contexts, as the success of the University would be measured by the success of her alumni. She expressed a belief in such a coalition, like the remarkable Alumni Associations around the world, which brings about a network of change and creates a formidable force to drive the University's vision and culture. The Vice-Chancellor thanked the alumni base for their previous representations especially at the 6th matriculation ceremony of the University and their anticipated input at the forthcoming 5th Founder's Day Anniversary.
The Registrar, Dr. Daniel Rotimi welcomed everyone to the maiden meeting between the University Management and the Alumni Association. He reiterated the iconic position of the University in higher education space and her commitment to agrarian revolution by proffering solution to the food insecurity in Africa and the entire world. He, therefore, expressed the pleasure to receive the pathfinders at a crucial time as this.
Articulating the purpose of the visit, the Acting President of the LMU Alumni Association, Mr. Owolabi Akinyomade described the visit as timely, noting the advent of the 5th Founder's Day Anniversary and the proposed role of the Alumni base to make the day very colourful. He expressed the resolution of the Association to complement the efforts of the University in advancing her culture and the agricultural revolution engagements to the much enviable heights. He promised that the Association will be actively involved in the community development programme, engaging in mentoring programmes for the matriculating students, charting the career path in agriculture for the secondary school students to boost student enrolment in Agricultural Programmes in the University, and also preparing new pathfinders for the NYSC scheme and the world of work, among others.
In the delegation were the Acting Vice-President, Russell Izedome and the Acting Secretary, Olaolu Taiwo who emphasized their commitment to representing their Alma mater positively. In their responses to various questions and views from the Management, they reflected on the welfare of the Alumni Association which has been reportedly fascinating by the number of achievements the body has recorded since inception, especially the retention of the University's core values after school and the success stories of the pathfinders upon graduation. On behalf of the LMU Alumni Association, the Acting Secretary appreciated the Management for the audience granted them and the confidence reposed in them as pathfinders.
Today @ LMU
Omu-Aran, NGovercast clouds 25.45oC
See More >>
Subscribe to our Newsletter
Get the latest news and updates by signing up to our daily newsletter.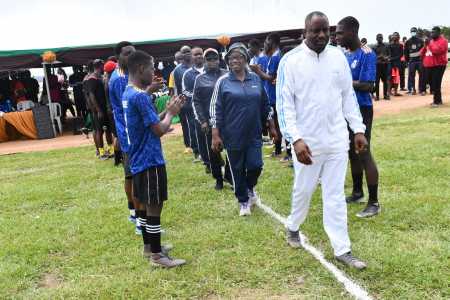 Story of the week
2022 CHANCELLORS CUP KICKS OFF