LANDMARK UNIVERSITY EXEMPLIFIES LEGACIES OF PASTOR MRS FAITH OYEDEPO AT 62
On Wednesday, 5th February 2020, Pastor (Mrs) Faith Oyedepo's legacies of excellence and impact were again exemplified by Landmark University in the celebration of her 62nd birthday with a host of primary school pupils who converged on the University's International Exhibition Centre for a reading tournament to mark the 2020 World Read Aloud Day which coincided with her birthday. The schools included Landmark University Nursery and Primary School; St. Paul's Anglican Primary School 1 and 2, Omu-Aran; Oasis Nursery and Primary School, Omu-Aran; and Seven-Day Adventist's Primary School, Omu-Aran.
Emphasising the essence, the Vice-Chancellor, Professor Adeniyi Olayanju, sensitised the pupils on the import of reading to knowledge acquisition and child's development. He said that the day was divinely arranged to further give expression to the impact virtue embedded in the celebrant. He, therefore, appreciated the pupils for being part of the celebration of greatness in Pastor (Mrs) Oyedepo, with the hope that the schools present would build on the legacy and return to their respective schools to replicate the idea.
In the same vein, the Registrar, Miss Adefunke Oyinloye, noted that no one achieves relevance without an excellent display of knowledge. She congratulated the Centre for Learning Resources ably led by the Director, Dr. Jerome Idiegbeyan-ose on the high level innovative initiatives being facilitated by them which continues to set the University right on track for global relevance. She said it was indeed tackling the issue of literacy from the root. While also speaking to the pupils, the Director, Financial Services, Mr Oludare Fadoju charged them to see reading as a means to improve and develop an excellent writing skill.
In his welcome address, the Director, Center for Learning Resources, Dr. Idiegbeyan-ose had earlier stated that the celebration was in line with the Sustainable Development Goals 1 and 4 of the United Nations which are towards poverty eradication and educational empowerment. He expressed happiness over the improvement of the Centre on the World Read Aloud celebration in 2020. He, therefore thanked the University management for the support.
In furtherance of Pastor Faith Oyedepo's 62nd birthday celebration, Management in collaboration with the University's Committee for Community Development and Impact Initiative also visited the two orphanages in the host community, Inioluwa Orphanage Home and Bislad Day Care and Home to donate some relief items.
Today @ LMU
Omu-Aran, NGclear sky 18.84oC
See More >>
Subscribe to our Newsletter
Get the latest news and updates by signing up to our daily newsletter.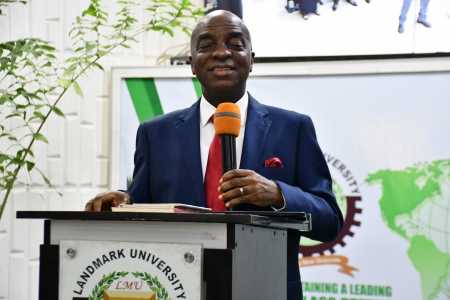 Story of the week
LANDMARK HOLDS 2022 STAFF EXECUTIVE ADVANCE