LMU BOR SECRETARY CHARGES LUSS GRADUANDS ON CAPACITY BUILDING
The Secretary, Landmark University Board of Regents, Barrister Temidayo Eseyin has charged the 2018 graduands of Landmark University Secondary School (LUSS) to be committed to capacity building for life. Speaking as the Guest of Honour at their graduation ceremony on Saturday, 28th July 2018, Barrister Eseyin enthused that they should see their graduation as a commencement of another journey. He said the secondary education is a foundation for their academic and professional development. He noted, therefore, that capacity building is preparation for the next levels. He defined capacity building as the development of ability, relationship and values, noting that none of the tripartite elements must be neglected but seen as interdependent. "You cannot build your ability and neglect relationship or value. If you don't have a good relationship, you cannot get anywhere in life. Building these three areas of life improves performance to achieve developmental objectives," he stated.
In other to remain relevant, Barrister Eseyin further maintained that capacity building is a continuous process till one's old age. "As long as there are problems to solve, you have capacity to build. You must move one step higher to be able to solve contemporary problems. Nobody can solve a problem while standing on the same level the problem emanated," he asserted. He therefore urged the graduands to always seek knowledge and development in their life journeys. He, therefore, implored them to uphold their dreams, visions, positive thinking, diligence, discipline and sacrifice as these would propel them to be committed to building their capacity.
Meanwhile, the Vice-Chancellor, Landmark University, Professor Adeniyi Olayanju congratulated the graduands, their parents and the entire management of the school for the abounding success stories about the school. "On this auspicious occasion of the 2017/18 Graduation Ceremony, I celebrate the faithfulness of God in the operations of LUSS for being known for quality education both within and outside the shores of this land," he said. While calling on the well-meaning parents of the graduands to maintain the relationship they have built with the commission over the years, he noted that Landmark University is unrelentingly committed to her outstanding values that would further prepare the graduands for their future endeavors as God has purposed. He said the University boasts of the massive spiritual support and guidance from the Proprietor base, continuous investment in ultra-modern facility development, acquisition of state of art engineering equipment, vast teaching and research and commercial farms, provision of modern teaching aids, impressive e-library facilities, IT infrastructure in classrooms, stable power, water and internet services, and scholarship for students - DOF among others.
The 2018 LUSS graduating class are prophetically christened "The New Dawn Set". The event which was under the Chairmanship of the LUSS Governing Council, Pastor (Dr.) James Ndako, was graciously attended by all members of the LUSS Governing Council, the Middle Belt Zone Education Officer, Mr. Daniel Okuwe, the PTA Chairman, Pastor Bonny Nnoyelu, the Chaplain, Landmark University, Pastor (Dr.) Abimbola Oluyori, the Dean, CAS, Professor Charity Aremu, the Resident Pastors – LFC Omu-Aran District Church, LFC New Market, LFC Oke-Agberu and Orolodo, Omu-Aran: Pastor Adebayo Olorunfemi, Pastor Johnson Oluwadare, Pastor Makanjuola and Pastor Ayodele respectively among others.
Today @ LMU
Omu-Aran, NGclear sky 20.37oC
See More >>
Subscribe to our Newsletter
Get the latest news and updates by signing up to our daily newsletter.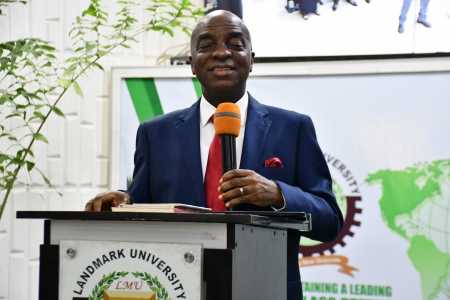 Story of the week
LANDMARK HOLDS 2022 STAFF EXECUTIVE ADVANCE