LANDMARK MANAGEMENT CALLS FOR RESEARCH PUBLICATION AND RANKING MODEL REEVALUATION TOWARDS ATTAINMENT OF WORLD CLASS STATUS
The management of Landmark, ably led by the Vice-Chancellor, Professor Adeniyi Olayanju, on Tuesday, 11th August 2020, called for a re-evaluation of the University's research, publication and ranking model with a view to accelerating the pace towards the realization of her academic goals.
At the Maiden Webinar of Landmark University Centre for Research, Innovations and Discoveries (LUCRID) entitled "Research, Publication and Ranking: A Re-assessment of Landmark Model", the Vice-Chancellor, against the backdrop of the current reality, reiterated the importance of the reevaluation of the model set at the 2017/2018 executive advance for faculty and staff, noting that it would be apt for reawakening of the University community to its responsibilities. He, therefore, tasked all members of management to update their roadmap documents for re-presentation to the University at the newly established weekly seminar under the auspices of the LUCRID.
Presenting his paper, the Vice-Chancellor emphasized the importance of benchmarking the University with other universities locally and globally. He noted that Landmark is faring well in the comity of universities in Kwara State and Nigeria based on her performance in research publications in Scopus-indexed journals, adding that among top 500 Nigerian authors ranking recently a total of 18 were from Landmark University. He said that beyond the variables of concentration of talents, abundant resources and favourable governance which are considered for world universities ranking, the University needs to scale up her efforts at delivering Covenant plus (+) output as envisaged. He remarked that the University's model was in line with Covenant's ReCITE Agenda which prioritizes Teaching, Research, Citation, and Innovation in the 30, 30, 30 and 10 percentage order respectively.
He, therefore, reiterated the University's commitment to pursuing her world-class status goal through ensuring standard infrastructural facilities, building a strong academic structure and administrative base. Other ways included building strong research culture, ensuring impactful research and development, and remaining focused as a full agripreneurship and self-sustaining university
While welcoming the University community to the webinar, the Registrar, Miss Fola Oyinloye had remarked that reevaluations are indicators of progress and that the webinar was designed to move the University forward. She congratulated the University community on the vision-driven proprietor base, led by the Chancellor, Dr David Oyedepo for the divine direction which propels the operations of the University culminating in the giant strides that characterized her existence.
Today @ LMU
Omu-Aran, NGclear sky 18.98oC
See More >>
Subscribe to our Newsletter
Get the latest news and updates by signing up to our daily newsletter.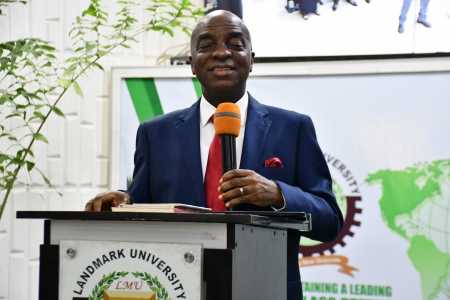 Story of the week
LANDMARK HOLDS 2022 STAFF EXECUTIVE ADVANCE