LANDMARK UNIVERSITY RECEIVES LNRBDA ON HYDROPOWER PROJECT
On Monday 18th August 2021, Management of Landmark University received the 5-man delegate of the Lower Niger River Basin Development Authority, (LNRBDA), Ilorin led by the Deputy Director, Integrated Water Management, Engr Dr Kola Maroof, on hydropower project collaboration.
According to the Engr. Dr Maroof, the collaboration move became imperative in line with the directives of the Federal Ministry of Water Resources for the authority to partner with research institutes and universities around its catchment area towards sustainable water utilization for all-round development. He noted that their preliminary visit was to notify the University about the partnership and survey the resources available in the University as well as draft a memorandum of understanding for the collaboration. He added that the collaboration will not only be on hydropower but one that will foster a public-private relationship for the advancement of knowledge. Being his first visit to the University, Engr Dr Maroof acknowledged the commitment of the proprietor of the University to facilitate an excellent ambience for learning.
In his response, the Vice-Chancellor, Professor Adeniyi Olayanju expressed the University's preparedness to explore the bodies of water available to the Institution chief of which is the backflow from the Omu-Aran Dam built by the LNRBDA. On the project, the Vice-Chancellor noted that the University has gone ahead in its research on sustainable power supply to building a hybrid power project for learning purposes which could be translated into large scale use. The delegate were, therefore, led on a tour of the hybrid project at the SDGs Exhibition Centre and the bodies of water within the University and the dam outside the campus.
Today @ LMU
Omu-Aran, NGclear sky 20.27oC
See More >>
Subscribe to our Newsletter
Get the latest news and updates by signing up to our daily newsletter.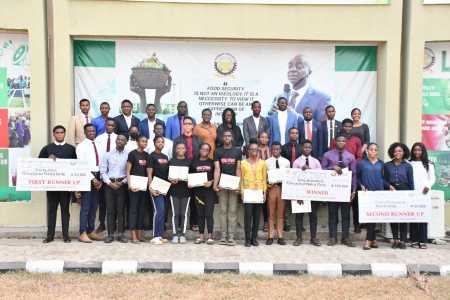 Story of the week
LANDMARK HOLDS INNOVATIVE CHALLENGE TOWARDS