LMU TO EXPLORE ROBOTICS AND MECHATRONICS FOR AGRICULTURAL SUSTAINABILITY
In order to keep tab with the 21st century practice in modern agricultural engagement for enhanced yield and for optimum performance which is in line with best global practices, the Landmark University Community on Thursday, February 8, 2018 received Professor Samuel Adejuyigbe, a Professor of Computer Aided Engineering, and Manufacturing for a presentation on a paper titled, "Exploring the Robotics and Mechatronics World for Agriculture and Biosystems."
In his welcome remarks, the Vice-Chancellor, Professor Adeniyi Olayanju averred that agriculture is becoming an exciting high-tech industry, drawing new professionals, new companies, and new investors. "The technology is developing rapidly, not only advancing the production capabilities of farmers but also advancing robots and automation technology as we know it. Agricultural robots are increasing production yields for farmers in various ways. From drones to autonomous tractors to robotic arms, the technology is being deployed in creative and innovative applications."
Professor Olayanju also noted that agricultural robots automate slow, repetitive and dull tasks for farmers, allowing them to focus more on improving overall production yields. He added that harvesting and picking is one of the most popular robotic application in agriculture due to the accuracy and speed that robots can achieve to improve the size of yields and reduce waste from crops being left in the field.
"In addition, our mission towards aggressive agrarian revolution endears us to bring our knowledge and the tools of technology to keep designing our future of agriculture. I believe that with the influence of mechatronics in agriculture, our ecology will gradually return to its 'green' state by diffusing it with technology that is not harmful but beneficial."
He stated that the vision of the University to become a leading world-class university by spearheading an agrarian revolution in Africa would benefit immensely by exploring applications of robots and mechatronics in agriculture, advising further that, it is wise to embrace beneficial technologies which will enhance the speedy actualization of the University's vision.
Professor Adejuyigbe, during his presentation, defined Mechatronics as a multidisciplinary field of science and engineering involving the design of computer-controlled electromechanical systems. It can be viewed as "modern mechanical engineering design" in the sense that the design of the mechanical system must be performed together with that of the electrical/electronic and computer control aspects that will comprise the complete system. It also includes a combination of mechanical engineering, electronics, computer engineering, telecommunications engineering, systems engineering and control engineering. In his submission, he noted that Modern agriculture in developed countries cannot be imagined without intelligent machines and intensive usage of fertilizers.
He proffered that Agriculture and Biological Engineering Department can work together to develop robots which are smart autonomous or semi-autonomous machines that can reliably replace human labour and human-dependent on heavy machinery, and that can work around the clock, in all weather conditions.
"This is of particular importance for applications in agriculture, where robots can help solve problems such as shortage of labour, growing production costs,food safety and product quality, soil compaction, efficient use of resources and reduction of emissions of chemicals to the environment," he concluded.
The Vice-Chancellor, Professor Adeniyi Olayanju giving his welcome remarks.

Professor Samuel Adejuyigbe during his presentation on Robotics and Mechatronics

Members of Management and Faculty giving rapt attention to the presentation

Professor Samuel Adejuyigbe (5th Right) in a group photograph with Members of the University community.
Today @ LMU
Omu-Aran, NGfew clouds 27.03oC
See More >>
Subscribe to our Newsletter
Get the latest news and updates by signing up to our daily newsletter.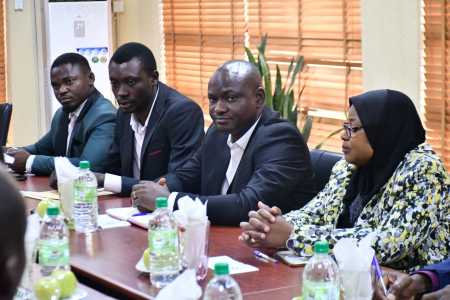 Story of the week
SON KWARA STATE SEEKS COLLABORATION WITH LANDMARK