LMU TO STRENGTHEN PARTNERSHIP WITH GSK ON CERVICAL CANCER VACCINATION
Landmark University few years ago became the first Private University of Agriculture in Nigeria to start Cervical Cancer Immunization Programme for her students and community through partnership with GlaxoSmithKline Pharmaceutical (GSK) Nigeria Limited. To further reassure all and sundries of this partnership, the Management on 24th April, 2018 met with the GSK team to re-strategize and reposition the Cervical Cancer Vaccination initiative.
While welcoming the representatives of GSK, the Vice-Chancellor, Professor Adeniyi Olayanju noted that Landmark University is a foremost a foremost agriculture based private University in Nigeria, envisioned to redeem the image of the black race via agricultural revolution that will translate into food availability, job creation, economic turnaround and quality lifestyle in Africa. "We acknowledge your awesome contributions to humanity through your dedication to improving the quality of human life by enabling people to do more, feel better and live longer. It is on this crucial platform of meeting the most essential needs of people that we get connected with respect to our products and services, as no life can be guarantee of a quality living, vitality and longevity without the input from our two organizations. I doubt whether anyone could survive abstinence from food and pharmaceutical services for a lifetime."
He also said that the magnitude of the two organization's relevance in the society, which needs to continually improve upon through research engagement, stands the University out as a major stakeholder in the business of transforming life and society. He however commended the innovative products of GSK in three primary areas of pharmaceuticals, vaccines and consumer healthcare that have impacted the society over the years. "It is noteworthy that you had good working relationship with LMU Medical Centre when the vaccination and immunization programme within student population were administered in time past. Here we are, as open as ever, to useful discussion for possible improvement in our operations geared towards making life better for all and sundries."
In his presentation, Mr. Alabi Olalekan stated that GSK is a science-led global healthcare company committed to continuous improvement and widening access for more people to benefit healthcare, no matter where they live in the world or what they can afford to pay. "We have served millions of patients over the years and are leaders in anti-infectives in Nigeria. We remain one of the few companies investing in R & D of anti-infectives and have been at the forefront of respiratory science for more than 45 years. Our respiratory medicines, Ventolin and Seretide, have helped millions of Nigerian patients benefit from better treatment over the years."
He further reiterated that GSK willing and always ready to continue the existing partner with Landmark University on immunization programmes, as recommended by World Health Organization towards improving the quality of lives of both young and old, knowing that prevention is cheaper, better and safer than cure. "We would appreciate the continuation of the partnership we started with your school to providing this immunization services to your students and University community. This immunization programme has been proven to improve the quality of lives of students and adult population besides, it will continue to add value to your institution."
A Cross-section of Members of the University Management with the GSK Team

The Vice-Chancellor, Professor Adeniyi Olayanju addressing members of GSK team during the meeting

The GSK Team Leader, Mr. Alabi Olalekan during his presentation

The Vice-Chancellor, Professor Adeniyi Olayanju presenting LMU souvenirs to GSK Team Leader, Mr. Alabi Olalekan

(2nd Right): Mr. Alabi Olalekan joined by his Team to present souvenirs to the Vice-Chancellor

Members of the University Management and GSK Team in a Group Photograph
Today @ LMU
Omu-Aran, NGclear sky 19.71oC
See More >>
Subscribe to our Newsletter
Get the latest news and updates by signing up to our daily newsletter.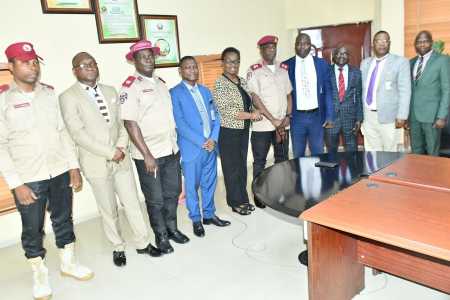 Story of the week
LANDMARK UNIVERSITY RECEIVES NEW FRSC KWARA SECTOR COMMANDER