TOWARDS SUSTAINABLE DAIRY FARM DEVELOPMENT
Preparatory towards sustainable dairy farm development, Landmark University and SMAP Farms discussed areas of collaboration with unprecedented opportunities for both organizations to be the very cynosure of dairy development for food security in Nigeria. Some of the areas of interest included capacity building and training of both students and staff, milk production, artificial insemination, and cattle management among others. While addressing the SMAP Farms representatives, the Vice-Chancellor, Professor Adeniyi Olayanju reiterated the continued commitment of the University to widen her visionary tentacles to accommodate more innovative agricultural ideas capable of improving the livelihood and wellbeing of the people primarily, thereby occupying a leading position in the global education domain. He noted further the University's unremitting collaborative efforts which had not only endeared the University to value-adding organizations but also ensured the fulfilment of her vision. While expressing the unreserved pleasure and readiness of the University in the partnership with great expectations in view, the Vice-Chancellor commended the exploits of SMAP Farms in dairy farming, noting the success of the artificial insemination of the cattle in the Teaching and Research Farm of the University. "We are glad to note your exploit in dairy farming for the purpose of achieving social economic empowerment, food security among others. We recognize your passion, progress and prospect in agriculture, given what SMAP Farms represents and your contributions to the face and fate of dairy farming in Nigeria."
In his response, the Chief Executive Officer SMAP Farms, Mr Suraj Ajiboye, said the organization focuses on training and capacity building, milk production, cattle management and supply of cattle equipment among others. With their undercurrent "Nigeria-can-also-do-it" passion and the fact that dairy has an expanded value chain, Mr Ajiboye noted that the Farms was established primarily for knowledge transfer, aimed at empowering youths for nation building. He said that the organization believes that the more the player, the better for the nation in its quest to ameliorate the challenges of unemployment, herdsmen-farmers' clash, and food insecurity among others. He, therefore, guaranteed a very productive and effective collaboration towards the actualization of the vision of the University.
The meeting therefore dovetailed into a robust interaction between the Landmark and the SMAP Farms team and subsequent discussion on the terms of the memorandum of understanding. Management members in attendance included the Registrar, Dr. James Ndako, the DFS, Mr. Dare Fadoju, the CLR, Dr. Jerome Idiegbeyan-Ose, the DCSIS, Mr. Demola Olopade, the DSPS, Professor Charity Aremu, the Head of Programme, Animal Science, Dr. A. A. Alabi, the animal geneticist, Dr. Ayo Shoyombo, the Coordinator, Vice-Chancellor's Office, Engr. Olumoyewa Atoyebi.
Today @ LMU
Omu-Aran, NGclear sky 20.37oC
See More >>
Subscribe to our Newsletter
Get the latest news and updates by signing up to our daily newsletter.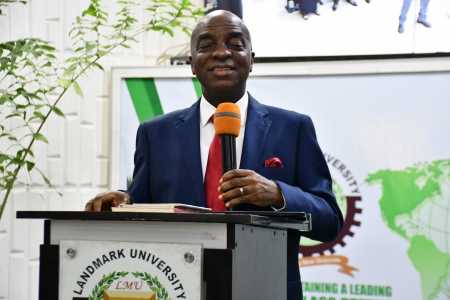 Story of the week
LANDMARK HOLDS 2022 STAFF EXECUTIVE ADVANCE