LMU RECEIVES THE CEO OF KINGS GUARD LIMITED
As way of fostering integrated approach to the security initiatives available on campus, Landmark University played host to the Chief Executive Officer (CEO) of Kings Guards Nigeria Limited, Mr. Samuel Olaniyan on 7th February, 2018.
At the meeting, the Vice-Chancellor, Professor Adeniyi Olayanju who welcomed the CEO of Kings Guards and his team noted that safety remains the pursuit of every human being on earth, and all we do is to enjoy safety."The greatest fear of any person is that his environment is no longer safe for him. For us here, the issue of security is taken seriously, as any breach of security is tantamount to a breach of peace and obviously a threat to the operations of the institution".
Professor Olayanju further expressed satisfaction with the performance of the operatives stationed around campus, this he said is worthy of commendation. He quickly asserted that the organization must not relent, as the University desires continued, improved and holistic security status on campus. He enjoined all to see security as everyone's business, hence a concerted effort towards promoting peace and protecting properties on campus.
He also commended the Security Committee ably led by Dr. Kayode Adegbite which has been diligent in the discharge of her duties. The Vice-Chancellor assured that the University would continue to look forward to a greater synergy between Kings Guards and Security Committee in furtherance to maintaining peace and security on campus.
Speaking earlier, the CEO of Kings Guards, Mr. Samuel Olaniyan congratulated the Vice-Chancellor who assumed office few months ago and thanked him for the continuous support his Organization has enjoyed from the University. He described Landmark University as an institution his organization is proud to be associated with, considering her connection to the Chancellor and Presiding Bishop of the Living Faith Church, Worldwide, Dr. David Oyedepo. "We appreciate the effort of the University to the support of our organization, it is our prayer that your tenure will be gracious and we believe you will finish strong. Landmark University is of God, the workers and stakeholders are also of God and for you to lead them you need God's wisdom, it is my prayer that God grant you such wisdom."
Mr. Olaniyan enthused that for adequate security to be on campus, there would always be need for appraisal and reappraisal of the security system.He therefore assured that his organization has a system in place to align all operatives to expected norms, while defaulters are apprehended and chastised as a way of fortifying the system.
The Vice-Chancellor, Professor Adeniyi Olayanju welcoming the CEO of Kings Guard and his team

The CEO of Kings Guards Nigeria Limited, Mr. Samuel Olaniyan and members of his team

The Vice-Chancellor, Professor Adeniyi Olayanju presenting University souvenir to the CEO of Kings Guard, Mr. Samuel Olaniyan

Members of Management and Kings Guards Team in a group photograph
Today @ LMU
Omu-Aran, NGclear sky 19.71oC
See More >>
Subscribe to our Newsletter
Get the latest news and updates by signing up to our daily newsletter.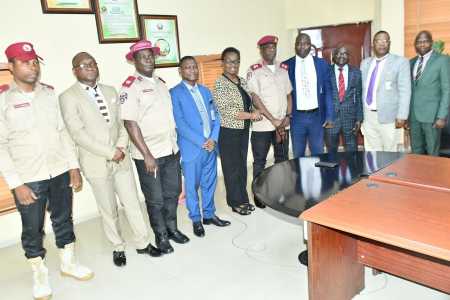 Story of the week
LANDMARK UNIVERSITY RECEIVES NEW FRSC KWARA SECTOR COMMANDER