LMU RECEIVES NASRDA DIRECTOR-GENERAL, MOVES TOWARDS STRENGTHENING COLLABORATION
On Monday 26th February 2018, Management of Landmark University ably led by the Vice-Chancellor, Professor Adeniyi Olayanju received the Director-General, National Space and Research Development Agency (NASRDA), Prof. Seidu Mohammed with a view to strengthening the existing collaboration between the University and the Agency.
Welcoming the NASRDA DG, who came in company of the Director, Centre for Satellite Technology and Development (CSTD) of NASRDA, Dr. Spencer Onuh and Engr. Christopher Tofade; on behalf of the Chancellor, Dr. David Oyedepo, Professor Olayanju expressed the University's commitment to her vision and the fundamental roles of collaboration to actualizing it.
Professor Olayanju highlighted the University's expectations with regard to the five years Memorandum of Understanding established under the leadership of the Immediate Past Vice-Chancellor, Prof. Aize Obayan. They include the development of Satellite technology and space applications in Landmark University for experiment, research, and data gathering; involvement of LMU in the Educational Satellite-2 (EduSat-2); Staff development and exchange; extension of sabbatical leave of NASRDA's Faculty with the University; establishment of Aerospace Engineering Department; and student's SIWES related issues.
According to Professor Olayanju, there is need to fully explore the opportunities of the collaboration urgently in a bid to fully actualize them. "I am certain that we shall make contributions that will better widen and explore the collaboration between the two organizations for the good of Africa," he enthused.
While responding, the Director-General, NASRDA expressed great delight and satisfaction in the University's commitment to the MoU and her passion for actualisation. He specifically assured the University his Agency's support in the identified areas, noting the responsibility to assist Universities and industries.
Impressed at the commitment of the NASRDA DG to the collaboration, Professor Jones Adeniyi, the Chair, Linkages and Collaboration Committee of the University, appreciated the offer granted to LMU by the Agency and the prospects for the nation at large while commending the exploits of Nigerians in different fields world over.
Also, the visit afforded the Chairman of LMU/NARSDA MoU Committee, Professor Olarinoye the opportunity to give a brief report of the activities of the committee so far.
Today @ LMU
Omu-Aran, NGclear sky 19.71oC
See More >>
Subscribe to our Newsletter
Get the latest news and updates by signing up to our daily newsletter.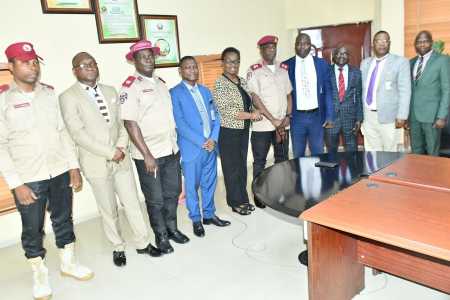 Story of the week
LANDMARK UNIVERSITY RECEIVES NEW FRSC KWARA SECTOR COMMANDER