LMU RECEIVES THE NEW OMUARAN DIVISIONAL POLICE OFFICER
'Security is everyone's business', is the axiom that permeates the nexus of the nation's landscape, as a way to further strengthen this truism most especially community policing, Members of the University Management led by the Vice-Chancellor, Professor Adeniyi Olayanju made a warm welcome to the new Omu-Aran Police Divisional Officer (DPO), Chief Superintendent of Police (CSP), Fatai Odunewu on 24th April, 2018.
In his welcome remarks, the Vice-Chancellor noted that the institution is envisioned to be a leading world class university, by spearheading an agrarian revolution on the African continent through the exploration of hidden treasures in the mother-earth thereby restoring the dignity of the black race. "Our mission is to raise a generation of solution providers through a qualitative and life-applicable training system that focuses on value and creative knowledge. I am aware that you are here today on a familiarization visit to the University, noting the role of the police which cannot be undermined in any University community, as security is key to the thriving of any society."
He stated further that there has been a robust relationship between the University and Omu-Aran Police Division, as the institution has greatly enjoyed their services and demonstrated partners in progress particularly with the immediate past DPO, Mr. Peter Ajogwu. "I vividly remember a particular Friday Faculty Fellowship, when the immediate past DPO delivered a lecture to the University community on how to discover stolen properties (particularly cars), while preparing to purchase one. We all commend the gesture geared towards preventing our community members from falling a prey to desperate sellers of stolen items. The lecture was unanimously described as insightful, informative and eye-opener. This legacy will endure in our community and Mr. Peter Ajogwu will not be forgotten in a hurry." The Vice-Chancellor enjoined the new DPO and his team to improve on the good work of his predecessor, as the next level of excellent security, intelligence gathering and crime control in Omu-Aran.
In his remarks, (CSP) Fatai Odunewu noted that his visit is to familiarize himself with the University and Members of Management, as he promised to keep on the relationship existing between Omu-Aran Divisional Police and Landmark University. He reiterated that the Police as a security agency is committed to community policing, which is more of being proactive rather than reactive. He stated further that prevention of crime is better than cure, as the Police cannot do it alone, no matter how much they try. "We need the assistance of the University to do our job effectively. Information gathering is key in our operation and we will need the University to do that for us from time-to-time, this could be achieved by having a network of relationship and provision of necessary equipment like vehicle etc., most importantly, we need prayers because we strongly believe in Psalm 127."
Today @ LMU
Omu-Aran, NGlight rain 27.17oC
See More >>
Subscribe to our Newsletter
Get the latest news and updates by signing up to our daily newsletter.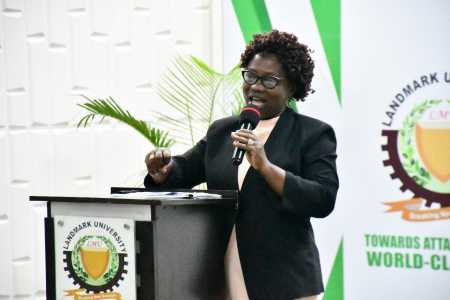 Story of the week
ACTING VC UNVEILS URGENT ACTION PLANS TOWARDS VISION REALIZATION