LMU SIGNS MOU WITH FEDERAL INSTITUTE OF INDUSTRIAL RESEARCH OSHODI
On the eve of 5th Convocation Ceremony that will herald the University releasing her next set of Pathfinders Class of 2018 christened the Elite Set, Landmark University ably led by the Vice-Chancellor, Professor Adeniyi Olayanju signed a Memorandum of Understanding (MoU) with the Federal Institute of Industrial Research, Oshodi (FIIRO) to upscale agrarian and industrial revolutions particularly for Nigerian and generally for the African Continent.
During the signing of the MoU, the Vice-Chancellor stated that the event became a reality because God has brought the University to a prepared level of agricultural revolution and that the heartbeat of the Chancellor and Chairman, Board of Regents, Dr. David Oyedepo is agricultural mechanization. He added that FIIRO played a significant role in his career development. He further stated that FIIRO has the broad mandate of accelerating industrialization in Nigeria and has over the years developed technologies that have promoted the ideals of entrepreneurship development, a focus he believed LMU would benefit from. He, therefore, thanked the Chancellor for approving the MoU, noting that it is the marriage of agricultural and industrial revolutions, as it remains the panacea for revitalizing the nation's economy. "According to the Vice Chancellor, the only way to remain relevant is to be committed to continuous improvement and having FIIRO as we have entered the 8th year as a University marks a new beginning for us," he added.
The Director General/CEO FIIRO, Professor Gloria Elemo, in her remarks thanked the Chancellor and Management of Landmark University for the privilege to be the 5th Convocation Lecturer. She said that the signing of the MoU is symbolic for the Institute, as well as LMU. "We are very much pleased with the MoU, there are some MoUs you sign and are left on the shelf, but with the caliber of energetic staff that you have here, I am quite sure that would not be the case because this MoU will go a long way. Our mandate is clear and we know this MoU before us is a journey that will birth products that would go industrial and will be of benefit to mankind, starting from Nigeria," she stated. While appreciating the Vice-Chancellor for his love and passion towards his work and people around him, she said Professor Olayanju possesses the heart of service and has made indelible contributions everywhere he has worked, as FIIRO is not an exemption. In her words, "FIIRO is very proud of the Vice-Chancellor because he is one of our own and that is why we are here to support him."
Today @ LMU
Omu-Aran, NGclear sky 18.84oC
See More >>
Subscribe to our Newsletter
Get the latest news and updates by signing up to our daily newsletter.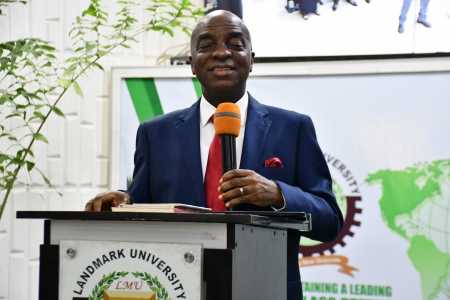 Story of the week
LANDMARK HOLDS 2022 STAFF EXECUTIVE ADVANCE