LMU TO PARTNER KYUTECH JAPAN AND NASDRA ON SATELLITE PROJECT
On Thursday 3rd of May, 2018, the management of Landmark University led by the Vice-Chancellor, Professor Adeniyi Olanyanju hosted Assistant Professor George Maeda, the Coordinator, BIRD-4 Satellite Project in Japan and the Director, Center for Satellite Technology Development (CSTD) NASDRA, Dr. Spencer Onuh in a partnership meeting on launching the BIRD-4 Satellite in Landmark University.
The Joint Global Multi-National Birds Satellite Project known as 'BIRDS PROJECT' is a cross border interdisciplinary satellite project for non-space fairing countries. The project which is supported by Japan is a two-year project which students shall design, develop and operate 5units of identical 1U CubeSats belonging to five participating countries and operated from 7 ground stations. The project is in four phases, three completed and the fourth about to kickoff. So far, the BIRDS I,II and III have been completed in twelve countries which are Japan, Nigeria, Ghana, Taiwan, Thailand, Bangladesh, Mongolia, Bhutan, Malaysia, Philippines, Sri Lanka and Nepal.
However, the National Space Research and Development Agency (NASDRA) has facilitated the partnership between LMU, KYUTECH and NASDRA to work on the BIRD-4 satellite project with Landmark University hosting the ground station as well as presenting some of her engineering students to be part of the project.
While delivering his remarks, the Vice-Chancellor, Professor Adeniyi Olayanju who acknowledged the collaboration between Landmark University and NASDRA as productive, appreciated the Agency ably led by its Director-General, Professor Sule Mohammed and most especially the Director Center for Satellite Technology Development (CSTD) Dr. Spencer Onuh for their roles in facilitating the availability of Assistant Professor Maeda for the meeting. Professor Olayanju who assured Professor Maeda that LMU will be committed to her part of the project added that the institution will leave no stone unturned till the set goal is achieved.
The Vice-Chancellor expressed optimism that the project, when completed, would enhance the agrarian mandate of Landmark University, which in line with the Liberation mandate of the proprietor base, would provide a panacea to food insecurity thereby restoring the dignity of the black race.
In his presentation, Professor Maeda from Kyushu Institute of Technology, Japan said a BIRD project will take 24 months to be completed and his visit is aimed at inviting Landmark University officially to be part of the project which is scheduled to kick off in October 2018. He spoke on the importance of having a space engineering laboratory in Landmark University; "To fully exploit space for National profit, it is necessary to design, build, test, and launch your own satellite," he further enthused.
Professor Maeda after his presentation saluted the commitment of Management for making Landmark University a world-class Institution by all standards, "I have been to many Universities in Africa and this is by far the best," Professor Maeda added.
Today @ LMU
Omu-Aran, NGclear sky 20.37oC
See More >>
Subscribe to our Newsletter
Get the latest news and updates by signing up to our daily newsletter.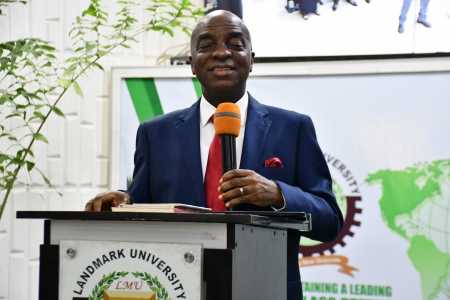 Story of the week
LANDMARK HOLDS 2022 STAFF EXECUTIVE ADVANCE