LMU VC OLAYANJU LAUDS CAPACITY BUILDING INITIATIVE BY FRSC
On Wednesday 30th May 2018, the Federal Road Safety Corp (FRSC) RS8.12 Omu-Aran Command held their second quarter workshop in Landmark University as part of their efforts in building a formidable work force. Addressing the Officers, the Vice-Chancellor Landmark University, Professor Adeniyi Olayanju who led other members of management to the event lauded the initiative of the command to equip their human resources reiterated the necessity of deepening the resource base of RS8.12 Omu-Aran Unit Command for efficient and effective services.
Professor Olayanju also appreciated them for maintaining a cordial partnership with Landmark University over the years. He stated that the University's drive for building capacity as captured in her Core Values is unquantifiable, describing it as what made the Institution identify with the training workshop by RS8.12 Omu-Aran Command of the FRSC. "As it is a common Knowledge that no organization can perform beyond the capacity of its workforce, it is expedient we strive towards attaining continuous improvement in our service delivery via training and retraining, which underscores the significance of this workshop" the Vice-Chancellor added.
The Guest Lecturer, Magistrate O. M Adeniyi presenting his papers titled "Exposition on Federal Road Safety Corps Establishment Act, 2007, Traffic Offences and other Offences of Strict Liability: Prosecution and Presentation of Evidence in Court by Federal Road Safety Corps Personnel", said the Workshop is an impressive act that should be imbibed by other Commands of the Sector. Magistrate Adeniyi added that in a country where citizens have little knowledge on road safety, it is expedient to enforce the use of road regulations. This according to the Lecturer is very important as adequate awareness will reduce the numbers of causalities recorded on our roads. While reeling out some of the rules and regulation road users must adhere to, Magistrate Adeniyi said all vehicles must be road worthy, and possess items such as Jack, C-Caution, Fire Extinguisher and Spare Tyre amongst others. He added that driver must have a valid Driving License.
The Vice-Chancellor, Professor Adeniyi Olayanju delivering his welcome remarks at the FRSC RS8.12 Omu-aran Command Workshop held in Landmark Universit

The Guest Lecturer, Magistrate O. M Adeniyi presenting his papers

Cross Section of Officers of the FRSC RS8.12 Omu-Aran Command at the Workshop

The Vice-Chancellor, Professor Adeniyi Olayanju (middle) and the Director Financial Services (DFS) Pastor Federick Agahunwa (3rd left) in a group phot
Today @ LMU
Omu-Aran, NGclear sky 19.71oC
See More >>
Subscribe to our Newsletter
Get the latest news and updates by signing up to our daily newsletter.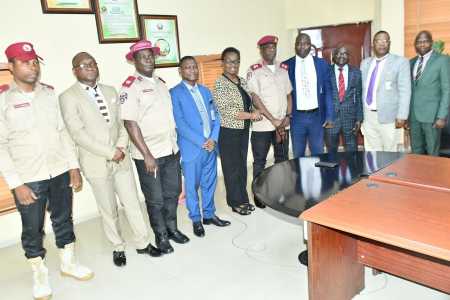 Story of the week
LANDMARK UNIVERSITY RECEIVES NEW FRSC KWARA SECTOR COMMANDER