LMU HOLDS ELSEVIER AUTHOR WORKSHOP SCIENCE DIRECT AND MENDELEY USER TRAINING FOR FACULTY
The Centre for Learning Resources (University Library) on 21st February, 2018 championed a noble cause geared towards the University's goal of increasing her Scopus rating before the end of the year by organizing a day programme for Faculty, on how to fully maximize the opportunity of publishing their research outputs using reputable journals hosted on Science Direct platform. The Vice-Chancellor, Professor Adeniyi Olayanju who declared the training open on behalf of the Chancellor and Chairman, Board of Regents, Landmark University, Dr. David Oyedepo, appreciated the eagerness of researchers and their crave for knowledge. He also lauded their penchant for publication of quality papers. "I heartily welcome you to LMU on this occasion of the Elsevier Author Workshop, Science Direct and Mendeley User Training organized by Elsevier B.V. I deeply appreciate the Country Representative of Elsevier B.V., Ibrahim Usman, and his organization worldwide for driving quality assurance in this regard and choosing Landmark University as a venue for this workshop that promises to be informative and impactful". Professor Olayanju congratulated all the participants for being part of the training, enjoining the participants to maximize the benefits derivable from it. He assured the organizers of the training of maximum support of the University Management in ensuring its success, noting the University's commitment towards capacity building as contained in the University's core values, which he described as the creed that defines the operation of Institution. "As you engage the participants with all the techniques of paper writing, research and retrieval of information from Science Direct, leading to improved rating on Scopus. I wish you a great outing and fulfilling interactions. May the Lord give you the grace to put into practice all you will glean from this great platform." he concluded. In her remarks, the Director, Centre for Learning Resources, Mrs. Felicia Yusuf thanked Management led by the Vice-Chancellor for their support towards organizing such a programme. She further noted that the programme was organized because of the need to scale up research output and visibility of Landmark University Faculty. Mrs. Yusuf also acknowledged that the training was facilitated by Elsevier team for the University's Faculty members which focused on unveiling techniques of paper writing, research and information retrieval from the ScienceDirect platform. When asked about the response of the participants to the training, she simply said "the workshop was well received and attended by members of Landmark University Faculty, and to us this is a good outing, as we expect more in the coming weeks".
Today @ LMU
Omu-Aran, NGclear sky 18.84oC
See More >>
Subscribe to our Newsletter
Get the latest news and updates by signing up to our daily newsletter.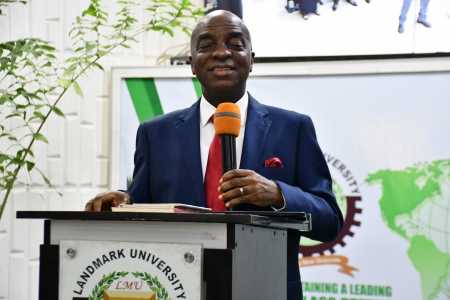 Story of the week
LANDMARK HOLDS 2022 STAFF EXECUTIVE ADVANCE