LMU HOLDS AGRIPRENUERSHIP TRAINING FOR STUDENTS
The unique selling point of Landmark University is to have a total graduate upon graduation, as Students are trained to provide solutions to the mirage of challenges within and outside their context. This is envisioned in the University's commitment in contributing to the process of continent's continous growth through curriculum development strategies that emphasize a cutting-edge approach to issues, entrepreneurial development scheme, and a practical commitment to investment in agricultural development, agribusiness and/or agripreneurship.
All these were brought to fore on 28th April, 2018 Landmark University held a day training programme for students captioned "Agriprenuership: Panacea to Economic Development".
At the opening of the programme, the Vice-Chancellor, Professor Adeniyi Olayanju noted that Landmark University has the vision to be a leading world class university, by spearheading an agrarian revolution on the African continent through the exploration of hidden treasures in the mother-earth thereby restoring the dignity of the black race. Our mission is to raise a generation of solution providers through a qualitative and life-applicable training system that focuses on value and creative knowledge.
"As an institution, we are totally committed to agripreneurship by means of which eradication of hunger and joblessness in the African continent, could be achieved in tandem with our vision and mission statements. Hence, at Landmark University, we produce quality thinkers and solution-providers who culminate into path-finders. We remain focused and committed to developing the scope of agripreneurship. This is obvious in our trailblazing efforts in this regard. It is also imperative to state that Landmark University stands to be the first University to award certificate on Agripreneurship Programme in Nigeria".
He urged students to pay keen attention to the well packaged training, hoping for them to learn new things that would be useful tools to them in the outside world, as the importance of Agripreneurship cannot be over emphasized. Professor Olayanju added that things to be lernt range from creating job opportunities for themselves and others, thereby not depending on any white-collar/government job to earn a living and break new grounds, as this can cause economic development, which is in accordance with the theme of the training.
In her welcome, the Dean College of Agricultural Sciences, Professor Charity Aremu reported that the Agripreneurship programme has 16 modules practical training which was aimed at stiring, directing, preparing and equipping students to be agrepreneurs upon graduation. She said Agrpreneurship at Landmark University is transformation of the University's vision to a palpable state, engagement in Agriculture, crafting Agripreneural mindset in students, and development of products from produce. "Your unreserved engagement will create in you a practicable culture in Agriculture. The Students were taken through sixteen (16) modules from Alpha to Omega Semesters of 2017/2018 academic session in Animal Production – Ruminant/ Non-ruminant, Microlivestock – Rabbitry and snailery, Crop Production – Tree seedling and Mushroom Production."
The guest lecturers, Dr. Bola Ashiru, FIIRO, Lagos; Mr. Odusanya Oludare, IITA Business Incubation Platform, Moniya, Ibadan; and Mr Leye Alayande, CEO, Hybrid Feed Limited, Ilorin, took the students on topic such as, Agriculture Value Chain, To Grow Big in Agriculture, Start Small and Developing Agripreneural Potential for Wealth Creation. The programme also witnessed Special Guests, Vice–Admiral Samuel and Treasure Afolayan, the CEO, Special Royal Farm; Dr. Bola and Alero sanni and Dr. Bayo Afolayan.
Today @ LMU
Omu-Aran, NGlight rain 29.25oC
See More >>
Subscribe to our Newsletter
Get the latest news and updates by signing up to our daily newsletter.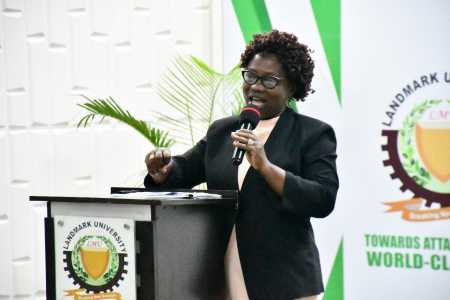 Story of the week
ACTING VC UNVEILS URGENT ACTION PLANS TOWARDS VISION REALIZATION