LMU EXPLORES THE LATEST TECHNOLOGY OF DIGITAL FABRICATION LABORATORY
Landmark University on 6th March, 2018 received the CEO of Information and Telecommunications Engineering Services Limited, Abuja - Engr. Oluwadara Oluwalana who made a presentation on the establishment of Digital Fabrication Laboratory in University. In his welcome remarks, the Vice-Chancellor, Professor Adeniyi Olayanju, noted the Commitment of the University at turning out well-equipped graduates with hands-on knowledge that will guarantee their relevance in leadership and solution-providing capacity in the 21st Century. He stated that the tenacious drive of the University towards an agrarian revolution, with a view to addressing food insecurity, youth unemployment and poverty in Africa, is unequivocal. "In pursuit of this agenda, employment of interplay of related knowledge and concepts in STEAM (Science, Technology, Engineering, Arts, and Mathematics) on the field for mechanized and sustainable agriculture becomes a reality. It is in view of scaling up efforts at making Agriculture less drudgery, more attractive, productive and gainful, especially to the youths that we have considered the presentation on Digital Fabrication Laboratory. It is a common knowledge that value begets value, this explains how the product exhibition of FABLAB in Abuja sometimes ago caught the attention of the Vice-Chancellor and prompted discussion that led to the presentation. He, therefore, requested that the equipment required and cost benefit of the proposal by Engr. Oluwalana would be worthwhile for the University to take on board, noting the Institution's passion for innovation, creativity, agripreneurship, productivity and prosperity. During his presentation, Engr. Oluwalana stated that the world was introduced to digital revolutions, from introduction of electronics computers to the acceptance of the internet which has revolutionised the way the world does business at the local and global level. He averred that Digital Fabrication is a new l revolution, where people can use computer numeric controlled machines to create physical objects from processed data. "Digital fabrication allows individuals to design and produce tangible objects on demand, wherever and whenever they need them,"he disclosed. He further described FABLAB as global network of local laboratories, enabling invention by providing access to tools for digital fabrication, which to him can be a creative hub for faculty, staff and students that would in turn generate revenue for the University. "FABLAB is a platform for project-based, hands-on STEAM experiential learning. The objective of the project is to launch an integrated, sustainable FABLAB equipped with trained faculty, staff, students and industry mentors; prepare undergraduate and graduate students to meet the innovation challenges of the job market and develop students and staff skills needed to use digital tools and related concepts creatively to facilitate innovation and entrepreneurship," he concluded.
Today @ LMU
Omu-Aran, NGclear sky 23.84oC
See More >>
Subscribe to our Newsletter
Get the latest news and updates by signing up to our daily newsletter.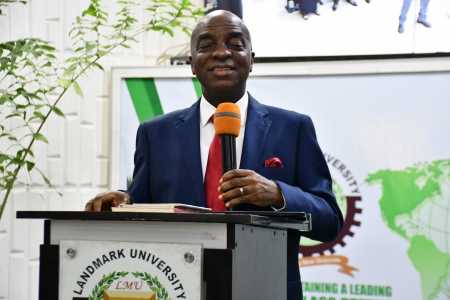 Story of the week
LANDMARK HOLDS 2022 STAFF EXECUTIVE ADVANCE