LMU ASCERTAINS COMMITMENT TO AGRARIAN REVOLUTION
As part of her efforts to ensure food sufficiency in the Continent, Landmark University has again reiterated her commitment to the actualization of the Institution's agrarian mandate. On Tuesday 8th May 2018, the Vice-Chancellor Professor Adeniyi Olayanju who led other members of the Management to receive the team from Dizengof Nigeria (An Agricultural Company) restated that the doggedness of Landmark University in driving its agricultural vision made relevant the meeting.
Prof Olayanju further accentuates the importance of technologically driven farming system in order to achieve the set goal of providing solution to food insecurity in Africa. "We are committed to improving the plight of farming and farmers with respect to meeting the food and economic needs of African continent. Our academic and research efforts are increasingly channeled towards addressing food insecurity, youth unemployment, economic downturn and dignity deficiency besetting Africa." He added that Landmark University in a bid to achieve the set goal has extended hand of collaboration to relevant reputable organizations and deploy technology solutions to agricultural productivity challenges.
In his response, Mr. Friday Ali, who is the company's Agronomist stated that Dizengof was attracted by the agrarian vision of Landmark University and would like to be part of the drive. Mr. Ali said the company's farmer's kit/ greenhouse technology is one of the best agricultural breakthroughs due to the high yield end result it has in production. He added that commercial farmers taking clues from Israel and South Africa among others have started investing in Screen House farming in large numbers. He, however urged Landmark University to key into the innovation by increasing the number of their screen houses.
The Team later went on a facility tour to the Landmark University Screen houses and Tractor Unit of the Teaching and Research Farm for better assessment of the facilities
Today @ LMU
Omu-Aran, NGlight rain 30.15oC
See More >>
Subscribe to our Newsletter
Get the latest news and updates by signing up to our daily newsletter.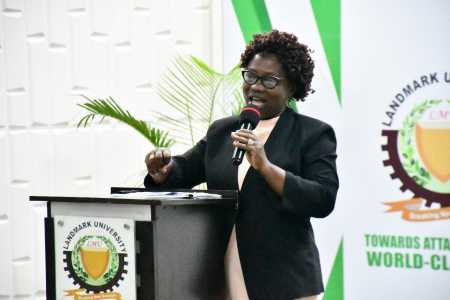 Story of the week
ACTING VC UNVEILS URGENT ACTION PLANS TOWARDS VISION REALIZATION