LMU CELEBRATES PASTOR MRS FAITH OYEDEPO AT 60 HOLDS CAREER TALK FOR STUDENTS
Being one of the most worthy times to build on her legacy and also fulfillingcorporate social responsibility, Landmark University held career talk sessions geared towards improving students' overall best performanceas part of the activities marking the 60th birthday of Pastor (Mrs) Faith Abiola Oyedepo, Vice President (Education), Living Faith Commission Worldwide and member of Board of Regents, Landmark University.
The 3 days events which werespearheaded by the Landmark University Community Development Impact Initiative (LMUCDII)took place in Omu-Aran and Olayinka communities of Kwara State between Monday 5th and Wednesday 7th February 2018.
On Monday, 5th February 2018, no fewer than one hundred and sixty(160) Senior Secondary School students from nine schools in Omu-Aran converged on the University Multipurpose Hall for the event. The students are from Landmark University Secondary School (LUSS), Ofe-Aran Comprehensive College, Omu-Aran High School, God's Grace College, ECWA Secondary School, Government Secondary School (GSS), Victory Model College, Ipetu Secondary School, and Ogbo Grammar School, Omu-Aran.
While welcoming the students to the amazing campus, the Registrar, Dr Azubuike Ezenwoke, lauded Pastor Faith Oyedepo's passion and support for quality education system in Nigeria. He said her commitment to transformative education is unalloyed. He added that it is her desire that every student realise their educational dream and be successful in their chosen fields of study. He therefore commended LMUCDII team for the initiative, noting corporate social responsibility impact asone of the expectations of the University's Management. He advised the students to take full advantage and benefits derivable from the initiative in shaping their future academic pursuits.He promised Management's support for the LMUCDII in making their assignments less stressful.
Earlier on, the chairman, LMUCDII, Pastor (Dr.) Abiodun Okunola, stated that the programme was in line with the heartbeat of the celebrant. He explained that it was intended most specifically to guide the senior class students in making right choice of courses that would benefit their future academic career. "They needed to be wary of the requirements, prospects, challenges and benefits derivable from all available courses that would suit their future plans," he said.
Speakers took turn to explore career prospects in Administration, Law, Teaching, Agriculture, Engineering, Medicine and other sciences.
Prominent among them was the University's Farm Manager,Elder James Dada, who spoke on "Choosing Career in Agriculture". Being the goal of the University to spark off an agrarian revolution among the youth, he said that agriculture remains the bedrock for sustainable national development, hence an urgent need to make agriculture-related courses more attractive, especially to female senior secondary school students. He then advocated for expansion of agriculture-related activities such as farmers' clubs in schools as a way out. He said that such clubs would ensure a wider participation of students in crop production and other aspects of farming. Dada said that the nation's agriculture sector was presently in dire need of passionate, skilful, intelligent, innovative and upcoming practitioners to achieve the desired success. "Agriculture as a career is not for dropouts, it is not for the weaker ones or those lagging behind," he concluded.
Adebusuyi Feranmi, an SS1 student of ECWA Secondary School, Omu -Aran, on behalf of the students appreciated the organiser for their efforts, describing the programme as "an eye opener''.
Olayinka community being the native town of Pastor Faith Oyedepo, was not left out in the celebration of their daughter. The LMUCDII team on Wednesday 7th February 2018 held a career counselling session and donated branded notebooks to pupils at LGEA Primary Schoolin honour of Pastor Mrs Faith Oyedepo.
Meanwhile on Tuesday 6th February 2018, the LMUCDIIhad visited Landmark University Secondary School, Landmark University Nursery and Primary School (LUNPS), St. Paul Anglican Special School and Government Secondary School in furtherance of the celebration to give the entire students branded exercise books.
Cross Section of Students during the career talk.

LMU Farm Manager, Elder James Dada delivering career choice in Agriculture

Students of LUSS listening with rapt attention.

Dr. Abiodun Okunola LMUCDII Chairperson making remarks at LUSS during the donation of the notebooks

Presentation of the Pastor Faith Oyedepo 60th birthday notebooks

LUSS students at the Assembly hall during branded notebook presentation

LUNPS pupils at the Assembly being addressed by LMUCDII Chaiperson, Dr. Abiodun Okunola

Exercise books presentation at LUNPS with LMUCDII team & LMU Corporate Affairs.

Students of Olayinka Grammar School at the career talk in the School hall.

Pupils of LGEA. Olayinka at the exercise books presentation

Refreshments being distributed to students

Presentation of exercise books to students at Olayinka Village
Today @ LMU
Omu-Aran, NGovercast clouds 25.45oC
See More >>
Subscribe to our Newsletter
Get the latest news and updates by signing up to our daily newsletter.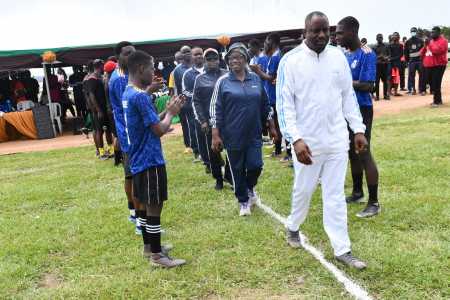 Story of the week
2022 CHANCELLORS CUP KICKS OFF