LMU AND NEXGEN TO COLLABORATE ON SUSTAINABLE POWER SUPPLY
The Vice-Chancellor Landmark University, Professor Adeniyi Olayanju on Wednesday 14th March 2018 constituted a steering committee to work on the Institution's power plan in collaboration with NexGen Energy and Allied Services Limited. In his remarks, Professor Olayanju who acknowledged the significance of power to the sustainability of Landmark University community said that Management is working out modalities to accessing affordable power supply so as to reduce the huge resources expended on energy.
"From all ramifications, energy is key to sustenance. Power is central to meaningful development in every organization and society as a whole. As our commitment to best practices and steady power supply is irreversible, we look forward to accessing the technical expertise of Nexgen Energy in boosting our power supply capacity. I think with your experience in the power, telecom and ICT industries, Landmark University should be able to benefit from your range of power system Technologies", he stated.
He, however, urged the Committee members headed by the Director Landmark University Physical Planning and Development, Arc. Opeyemi Sina-Olulana to swiftly hit the ground running by presenting a workable power plan for Landmark University, which in the nearest future can be extended to the host community and its environs. NexGen's team leader, Engr. Uka Ibe in his presentation revealed the benefits of alternative power supply like solar to enhance the agrarian drive of the University.
According to him, power is inevitable to modern agriculture and this can be accessed cheaply through having an efficient power plan. Engr. Ibe added that through his Company's collaboration with China, a durable and affordable energy supply is guaranteed.
Today @ LMU
Omu-Aran, NGclear sky 20.53oC
See More >>
Subscribe to our Newsletter
Get the latest news and updates by signing up to our daily newsletter.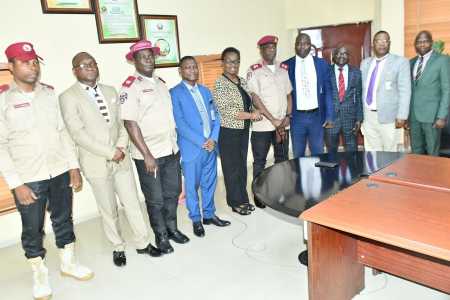 Story of the week
LANDMARK UNIVERSITY RECEIVES NEW FRSC KWARA SECTOR COMMANDER