LMU AND NASRDA MEET ON GEOSPATIAL APPLICATION
In furtherance of her collaboration with the National Space Research and Development Agency (NASRDA), Landmark University on Tuesday 14th March, 2018, hosted the Director, Strategic Space Application, NASRDA, Dr Haliru Shaba and his Deputy, Dr. Matthew Adepoju in a preparatory meeting on creating a Geo-Spatial Application service for Landmark University.
The Geo-Spatial Application, being a technical-oriented partnership project towards co-designing and manufacturing of Nano satellite, will facilitate the gathering, display and manipulation of imagery, GPS, and satellite photography in view of enhancing agricultural practice amongst other benefits in the University. The Vice-Chancellor, Professor Adeniyi Olayanju in his remarks described the project as a laudable one which will aid the agrarian revolution mandate of the University.
Reiterating the University's passion towards food security in the continent, Professor Olayanju opined that the application service technology would be a model to other institutions in terms of proffering solution to atmospheric and environmental challenges in agriculture. Professor Olayanju therefore appreciated the commitment of the Agency to the MoU signed on 21st October 2016 which was further demonstrated with the recent visit of NASRDA Director General, Professor Seidu Mohammed. He added that "Faculty exchange programme between the two organizations has commenced, noting the deployment of three Faculty in 2017 from NASRDA to LMU, who are currently serving in the College of Science and Engineering" thereby fostering students' acquisition of practical knowledge.
In expectation of other workable resolutions, the Vice-Chancellor hoped that the outcome would be for the good of Africa. While speaking, Dr. Haliru Shaba extolled the commitment of Landmark University towards the partnership, an act he said is worthy of emulation. He revealed that LMU's integrity and doggedness to making things work between the two institutions for the benefit of the Nation is highly encouraging to the Agency.
The Director said that the Geo-spatial application project would be a starter to other laudable projects which include a joint research in space science, engineering and technologies for external funding through Industrial Training (IT), exchange programme, practical training of Faculty as well as community development projects.
The Vice-Chancellor, Professor Adeniyi Olayanju addressing the gathering

The NASRDA team, Dr. Haliru Shaba and Dr. Matthew Adepoju while giving their remarks

The Vice-Chancellor, Professor Adeniy Olayanju with other Management members in a group photograph with the NASDRA Directors.
Today @ LMU
Omu-Aran, NGclear sky 20.53oC
See More >>
Subscribe to our Newsletter
Get the latest news and updates by signing up to our daily newsletter.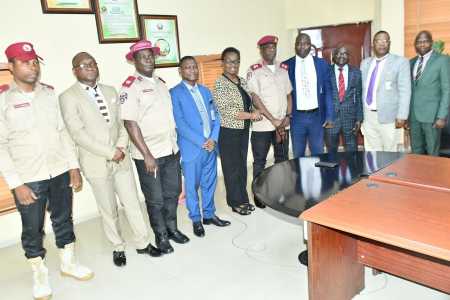 Story of the week
LANDMARK UNIVERSITY RECEIVES NEW FRSC KWARA SECTOR COMMANDER