LANDMARK UNIVERSITY PREPARES TOWARDS ADMITTING FRESHERS
In order to promote student enrollment in the 2016/2017 Academic Session, the Management of Landmark University led by the Vice-Chancellor, Professor Aize Obayan inaugurated another working group tagged the Student's Mobilization Committee on Monday, 18th April, 2016. The twenty-three member committee headed by the Director, University Wide Courses, Pastor James Ndako, is expected to serve as the marketing arm of the University, engaging on a special drive for aggressive student enrollment for the Academic session.
Inaugurating the Committee, the Vice-Chancellor, Professor Aize Obayan, implored the members to work aggressively in attaining the set goals by deploying world-class marketing strategies that would substantially improve student subscription. Professor Obayan charged the members to work in synergy with appropriate bodies in driving the visibility for the school.
In his acceptance speech, the Chairperson, Pastor James Ndako, appreciated the University community for reposing the confidence to serve in them. He said in preparation for the task ahead he had already grouped the students into different committees to impart a stakeholder's mentality. He made known that the students are performing their duties and their recommendations would be incorporated in the committee's report.
The Committee is expected to ensure that appropriate strategies are adopted for proper drive and mobilization to have improved subscription for the forthcoming Academic Session.
Today @ LMU
Omu-Aran, NGclear sky 19.71oC
See More >>
Subscribe to our Newsletter
Get the latest news and updates by signing up to our daily newsletter.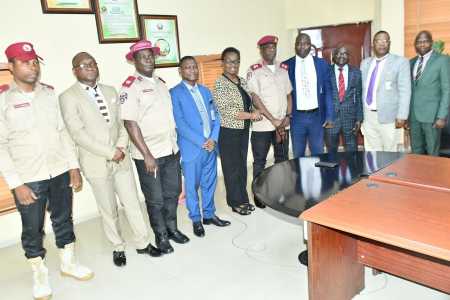 Story of the week
LANDMARK UNIVERSITY RECEIVES NEW FRSC KWARA SECTOR COMMANDER