LANDMARK UNIVERSITY MEETS NAFDAC TOWARDS MARKET AUTHORISATION
The Management of the University ably led by the Vice-Chancellor, Professor Aize Obayan, met the regulatory officers of the National Agency for Food and Drug Administration and Control (NAFDAC), Ilorin Office on Tuesday 19th April, 2016. The Vice-Chancellor, who expressed her pleasure receiving the team on behalf of the Chancellor, Dr David Oyedepo, commended the agency for their quick response to University's call in such a time as this when the University is ready to spread her entrepreneurial tentacles to the whole world in line with her vision. "Our commitment to the agrarian revolution is properly articulated in our vision and evident in what you are seeing on campus… I see that which you are also driving is very much part of our vision in terms of the regulatory practices, quality control and assurance as far as best practices with respect to production, health and hygiene are concerned," she noted. Professor Obayan assured them that Landmark University will not be associated with negative practices by way of circumventing or sabotaging the mission of the agency, emphasizing that, "in alignment with our vision and core values, being right on tract in terms of regulatory practices is very important. We wouldn't want our products to be out there without being approved. This is why we have gone this length to secure the approval of your agency because we are ready to launch them out. We have tested them as you would expect us to have done and there is quite a lot of acceptance." She disclosed that the University is unrelenting in terms of what it stands for as it will ensure that graduation from the University will not only be about certificates but also adequate impartation of entrepreneurial skills which will be replicated by the graduates in relations to being pathfinders, change agents, global leaders and entrepreneurs, adding that, "all in all, our drive and quest is to see how we make viable contributions to the food security gaps in Nigeria."
Particularly, she appreciated the effort of Dr. Ademola Adebanjo, Dr. Charles Okoli and Mr. Alejolowo who have been playing the internal regulatory role in the University to ensure the enterprise drive is sustained. Therefore, Professor Obayan, in line with the next phase of project implementation especially the Centre for Entrepreneur Development Studies in the University and the recommendation of the internal and external product regulatory teams, promised that by the next call on the NAFDAC team, the University would be ready for full authorisation.
While introducing the members of the team to the Management, the leader, Mr. Joseph Benjamin a Medical Laboratory Scientist, expressed how enthralled they felt about the warm reception of the Management team of the University. He explained that the organisation has the ultimate mandate of safeguarding the nation by checkmating illicit and counterfeit products in Nigeria. He emphasized the importance of NAFDAC authorisation to any product. Relaying the outcome of the evaluation carried out by the team on the University's production chain and facilities, Mr. Benjamin commended the efforts of the University at ensuring a sustainable development in the enterprise arm compared to what it used to be when he first visited two years ago. He said the products which fall under food and cosmetics categories have been checked against the minimum requirements and just as they were, with few recommendations and suggestions, the University's products are good for authorisation. "We are so happy with the development here. Our visit here was to see what is on ground in preparation for registering your products. We have gone round and we have seen certain things. I appreciate the efforts of your people towards getting thing right. Nothing is at stake; what we are doing today is just value addition," he noted.
With much enthusiasm, Dr. Adebanjo and Dr. Okoli expressed their commitment and hope to have more facilities on ground to make the full authorisation a reality for the University's products to flood the market scene, saying that the products will be competing favourably with best in the nation and beyond.
No doubt, this is another colossal stride towards attaining the world-class status by revolutionizing research and validating the intellectual dimensions of the University in its drive to solving the nation's myriad of problems.
Today @ LMU
Omu-Aran, NGclear sky 19.71oC
See More >>
Subscribe to our Newsletter
Get the latest news and updates by signing up to our daily newsletter.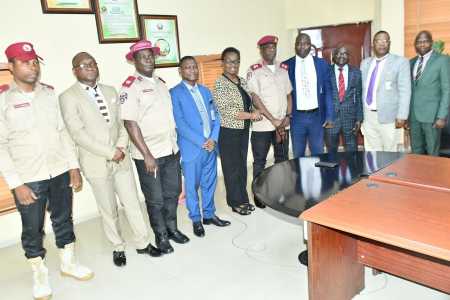 Story of the week
LANDMARK UNIVERSITY RECEIVES NEW FRSC KWARA SECTOR COMMANDER