LANDMARK UNIVERSITY INAUGURATES STUDENTS' LEADERSHIP ELECTORAL COMMITTEE
On Thursday the 26th of April, 2016, the Management of Landmark University led by the Vice-Chancellor, Professor Aize Obayan, inaugurated the Students' Leadership Electoral Committee (LUSLEC) to oversee the conduct of election for the student body. This is in line with the University's vision of a balanced academic environment where students are adequately equipped with the capacity for national development.
The ten-man Committee is expected to be in-charge of the organization of election beginning from the nomination of candidates to the declaration of election results. The neutral body which is saddled with the responsibilities of interpretations of electoral regulations, screening of candidates and overseeing the collation of election results will also work in accordance with the prescribed electoral regulations as provided by the University Management. The Committee is expected to drive responsibility, discipline, transparency and equity as it prepares the students for the future.
The Committee members comprised Faculty members from the three Colleges, the Student Affairs Directorate, the Alumni base, the Student Council, the Chaplaincy, Security and Registry to ensure fair representation and delivery.
Inaugurating LUSLEC, the Vice-Chancellor, Professor Aize Obayan who recognized leadership gaps as one of the banes of development in Africa said that much is needed to be done to raise global leaders; hence the action taken by the Management to raise total men who will be at the centre of national events in no distant time. "This is driving the pathway of innovation, if we have to become global leaders indeed; we have to understand the principles and process of making one." She further admonished the Committee members to deliver that which they are sent to do. "It comes with a lot of responsibilities, and commitment and team work to institute best practices in driving historical plans," she added. The Vice-Chancellor later led other members of Management to administer the oath of office to the members of the Committee to launch them to their duties.
On behalf of other Committee members, the Chairperson, Pastor James Ndako, thanked God and the Management for the privilege to serve, while he pledged that the Committee would be fair and objective, promising not to compromise and work with time.
Highlight of the inauguration was the presentation of the Landmark University Student Leadership Electioneering Process Manual to the Committee.
Today @ LMU
Omu-Aran, NGclear sky 19.71oC
See More >>
Subscribe to our Newsletter
Get the latest news and updates by signing up to our daily newsletter.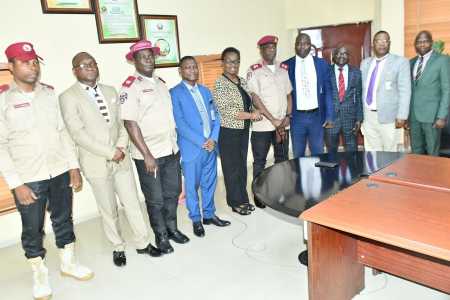 Story of the week
LANDMARK UNIVERSITY RECEIVES NEW FRSC KWARA SECTOR COMMANDER