LMU COMMENCES REBRANDING SERIES AT THE SECOND UNIVERSITY CONGREGATION
In pursuit of the rebranding agenda of the University for 2015/2016 academic session, the first Central Faculty Fellowship for the year 2016 along with the second University Congregation in the session, on 29th January, was agog with a presentation on Rebranding by Mr. Michael Ayeni, a Fashion Designer from the United Kingdom. He identified personal packaging as a vital ingredient of planning to excel among competitors. He therefore enjoined the University community to take advantage of its competitive features, which are location, infrastructure and spirituality, to catch an enduring niche for its visionary services. He submitted that "In this institution student- lecturer relationship is number one and the spirit of excellence that permeates the environment has to reflect in how we rebrand and package ourselves. Remember any business that is not sales motivated is a waste of time. Your students are watching you because you are their number one ambassador."
In her remarks, the Vice-Chancellor, Professor Aize Obayan advised all members of the University community to draw lessons from the presentation, saying "everything speaks and the presentation on rebranding is just coming at the right time as we pursue our agenda for rebranding our operations such that when people speak of University Education then the reference should be Landmark University." As the University is preparing to commemorate her Fifth Founder's Day, the Vice-Chancellor called for a novel narrative to capture the history of the University, which Dr. Eze Sunday, Dr. Agaptus Nwozor and Dr. Charles Okolie have been charged to work towards for eventual launch on the fifth Founder's Day. She also unveiled the plan of the University to reward distinguished Faculty with high impact publications during the third Convocation Ceremony of the University in July 2016. The motive of the event is to discourage patronage of predatory journals.
In line with the Capacity Building Core Value of the University, certificates were awarded and presented to some Faculty and Staff of the University who were successfully trained at the New Horizon Computer Learning Center in collaboration with the Directorate of Academic Planning. The awardees successfully took courses in Project Management, Internet and Computing, CCNA-Advanced Networking, Oracle 11 G Training and Advanced Excel Training.
Leading the official presentation of the Certificates, the Director Academic Planning, Dr. (Mrs.) Rachael Adebayo noted that the certification is in tandem with the University's Capacity Building core-value, adding that the University's work force must also develop themselves and be IT inclined, in line with the global best practices.
Today @ LMU
Omu-Aran, NGclear sky 19.27oC
See More >>
Subscribe to our Newsletter
Get the latest news and updates by signing up to our daily newsletter.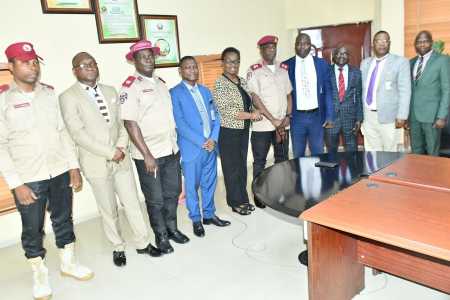 Story of the week
LANDMARK UNIVERSITY RECEIVES NEW FRSC KWARA SECTOR COMMANDER