LANDMARK HOLDS ONE DAY SPECIAL CAPACITY TRAINING
The Pro-Chancellor, Landmark University, Pastor Mrs. Faith Oyedepo has charged members of staff in the Landmark University Development Ventures (LMDV) to possess stakeholder mentality in discharging their respective duties. The charge was given during the one-day special training programme organized for the staff of the Ventures with the theme "Repositioning the LMDV towards Turnaround Mission" on Thursday 14th October, 2021.
During her presentation titled "Engaging the Stakeholder/Ownership Mentality, Pastor Faith Oyedepo implored the participants to embrace possibility mentality, open their hearts to receive, learn and be part of the innovations the training would offer. Quoting Luke 16:11-12, Pastor Mrs. Oyedepo encouraged them to provide their services as unto the Lord, hence trusting Him for their rewards both on earth and in heaven. She stated that having ownership mentality would help participants give their best at all cost, without compromising standards. "Let your work be guided by the values you bring and not necessarily your take home pay", she added. The Pro-Chancellor, noted that to have a stakeholder's mentality is to be accountable, work faithfully, innovative and engage heartily.
Corroborating the Pro-Chancellor, the Director, Internally Generated Revenue, (IGR) Covenant University, Dr. Love Ogah in her presentation titled, "Business Approach to Profitability", revealed that the real essence of business is value creation. She noted that, "profit is not the essence of business. There is a deeper purpose of business which is value addition. Without value, profit alone cannot sustain a business". Dr. Ogah, thereafter, encouraged each subunit in LMDV to create a vision and mission statement, determine their long-term goals and be consistent in adding value in service delivery.
The University Secretary, Pastor Frederick Aghahuwa stated that the capacity training is aimed at enhancing productivity and profitability in LMDV. In his words, "the person you give responsibility to is the one you have trained. We need collaboration from you to maximize the privilege given to you while ensuring your productivity improve". He concluded his presentation on "Faithfulness in Our Job", noting that every worker is required to serve faithfully bearing in mind the cost of unfaithfulness.
Delivering her opening remarks, the Ag. Vice-Chancellor, Professor Charity Aremu, stated that the cyclical nature of LMDV requires teamwork from production to quality control, to delivery, feedback and profitability. "Business Venture is a task that requires process; you need to build capacity to own it, if you own it, your mind will flow and ideas will come", she further stated.
The University Registrar, Miss Fola Oyinloye who presented a lecture on "Service Delivery Etiquette", identified professionalism, honesty, respect, friendliness and patients as some of the good work culture expected for excellent service delivery etiquette. Others include efficiency, smartness and being a good ambassador and not "bad mouthing" the organization among others. Miss Oyinloye concluded by urging participants to begin to deliver a product that will serve as a proof of being part of the capacity building.
Other resource persons who made presentations towards repositioning the LMDV included the Landmark FC-IGR, Mr. Umar Isah - "Enhancing the Internally Generated Revenue (IGR) Drive through Effective Record Keeping"; Landmark University Chief Internal Auditor (CIA), Pastor Afolabi Ibitoye - "Essentials of Internal Control"; and Head of Department, Accounting, Dr. Ben-Caleb Egbide - "Budget and Target Management for Business Profitability".
The one-day capacity building workshop had over one hundred staff of the Landmark University Development Ventures (LMDV) in attendance with aspirations that the impact of the workshop would be evident in their operations henceforth
Today @ LMU
Omu-Aran, NGclear sky 20.37oC
See More >>
Subscribe to our Newsletter
Get the latest news and updates by signing up to our daily newsletter.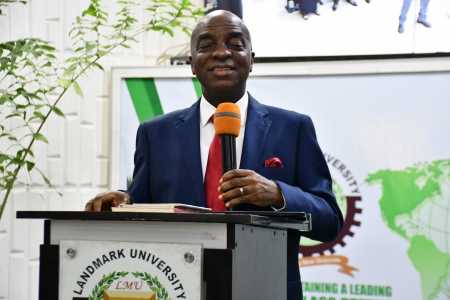 Story of the week
LANDMARK HOLDS 2022 STAFF EXECUTIVE ADVANCE