LANDMARK UNIVERSITY SIGNS MOU WITH NATIONAL CENTRE FOR AGRICULTURAL MECHANIZATION
The Management of Landmark University, ably led by the Vice-Chancellor, Professor Adeniyi Olayanju signed a Memorandum of Understanding (MoU) with the National Centre for Agricultural Mechanization (NCAM), Ilorin, Kwara State on the 21st March, 2018. This is towards the University's strategic plan of ensuring the full mechanization of all agricultural activities and engagement in the Commercial and Teaching and Research Farms of the University.
In his address before the signinhg of the MoU, the Vice – chancellor noted that, Landmark University was established on 21st March, 2011, exactly 7 years ago with a compelling vision to be a leading world-class University by spearheading an agrarian revolution through the exploration of the mother-earth thereby restoring the dignity of the black race. This vision, he said has expressed manifold quality production in agricultural engagement with proof to show at all platforms.
Professor Adeniyi Olayanju, while thanking God for making the day a reality, noted that it is divinely orchestrated that the signing of MoU with NCAM coincided with the University's 7th Founder's Day Celebration. "Our relationship with NCAM is way back and it is a long-term one, which is quite enduring. At 7, we have a good story to tell because we are not just rolling out the drums for nothing. Now that we are entering our 8th year, our year of new beginning, whatever success, image or accomplishment we have recorded in the past are not enough. We must renew our strength". He stated that the University has done a SWOT analysis of her activities and NCAM is one of those opportunities Landmark University has identified and ready to explore. He noted further that the new phase for the University is to restore the kingship in Nigerian farmers via driving full agricultural mechanization.
In his response, the Acting Director, NCAM, Dr. Yomi Kasali who congratulated the Institution on her 7th Anniversary said that Landmark University has made indelible marks since inception. He congratulated the Vice-Chancellor for charting a new course for the University and prayed that the MoU will work in favour of both institutions. He therefore pledged the support of NCAM towards fulfilling the terms contained in the MoU. "We are ready to work with you and I believe this will be a partnership that would help both Institutions to actualize their goals and objectives. It is indeed a new era that will open new horizon for our institutions and I want to say a big congratulations for your 7th anniversary celebration".
The Vice-Chancellor, Professor Adeniyi Olayanju giving his remarks

The Acting Director, NCAM, Engineer, Dr. Yomi Kasali giving his remarks

Landmark University Management and NCAM Team on the defining table

L-R: The Registrar, Dr. Ezenwoke Azubuike; Dean, College of Agricultural Sciences, Professor Charity Aremu; Acting Director, NCAM, Engineer, Dr. Muide

The Dean, College of Agricultural Sciences, Professor Charity Aremu; Acting Director, NCAM, Engineer, Dr. Muideen Yomi Kasali, Vice-Chancellor, Profes

Members of Landmark University and NCAM in a group photograph
Today @ LMU
Omu-Aran, NGovercast clouds 21.75oC
See More >>
Subscribe to our Newsletter
Get the latest news and updates by signing up to our daily newsletter.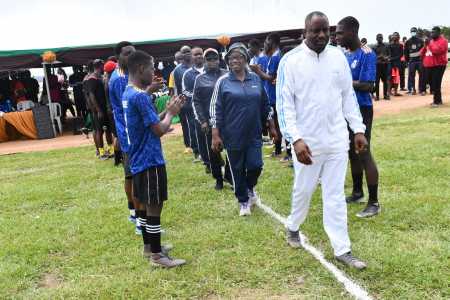 Story of the week
2022 CHANCELLORS CUP KICKS OFF