LANDMARK UNIVERSITY RECEIVES WINTECK LIMITED
On 7th November, 2017 the importance of equipment to effective teaching and research was brought to fore when the University played host to the team from Winteck Limited.
While welcoming the representatives of Winteck Limited, the Vice-Chancellor, Professor Adeniyi Olayanju noted that Landmark University is a community that prides itself in cutting edge equipment to drive top notch education in theory and practice, and cherishes associating with reliable companies like Winteck. "I recognize the cordial relationship Landmark University has with Winteck Limited over the years. Your antecedent of prompt delivery of our Engineering equipment as specified couple of years ago is exemplary. Secondly, your memorable endowment at the maiden Convocation of the University is evergreen in our record."
He further noted that the value alignment of Winteck which forms a creed of operation Landmark University has advanced the relationship of both organizations. Professor Olayanju enjoined the organization to continue as a corporate organization to prove their onion to bring forth virtues of service delivery that would sustain the favourable perception of the organization's efficiency. "On behalf of Management, Faculty, Staff and Students of the University, I warmly welcome you to our serene campus and urge you to make bare of possible relationship that will engender mutual benefits for our two platforms."
Speaking on behalf of the team, Mr. Ademola Oloruntobi congratulated the Vice-Chancellor on his appointment. He said the company has been communicating with the University through correspondences but decided to strengthen the already established relationship between Landmark University and Winteck by meeting members of the University Management. "The vision of the Chancellor for Landmark University is quite palpable, in terms of equipment procurement in the University. Laboratory and Science equipment is our major stake because we represent major manufacturers in Nigeria." He, however, advised that the University should ensure that those entrusted with the responsibility of using the equipment must be regularly trained to be in tune with latest technology. "We have access to workshops and exhibitions outside the country because manufacturers depend on us to give them feedbacks from the users. It is our prayer that God will grant the Vice-Chancellor the wisdom in his new assignment."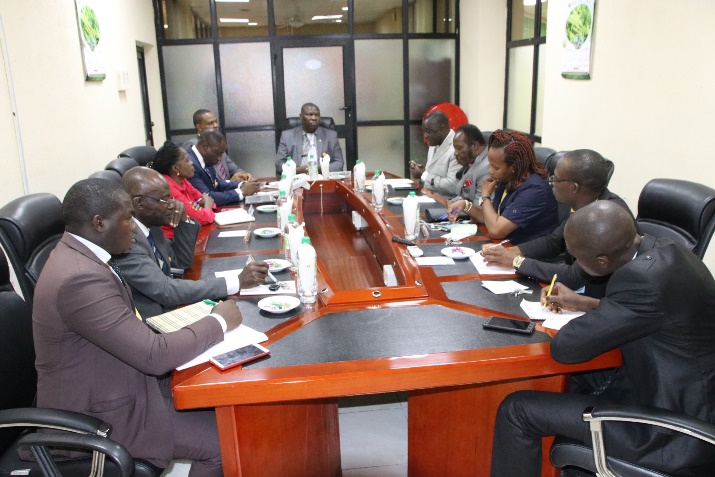 Members of Management with the Vice-Chancellor, Professor Adeniyi Olayanju at the head table and representatives of Winteck Limited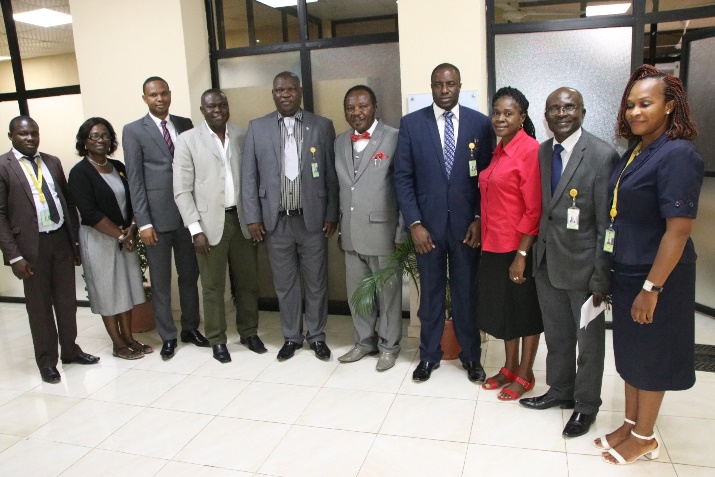 Members of Management in a group photograph with representatives of Winteck Limited
Today @ LMU
Omu-Aran, NGclear sky 19.71oC
See More >>
Subscribe to our Newsletter
Get the latest news and updates by signing up to our daily newsletter.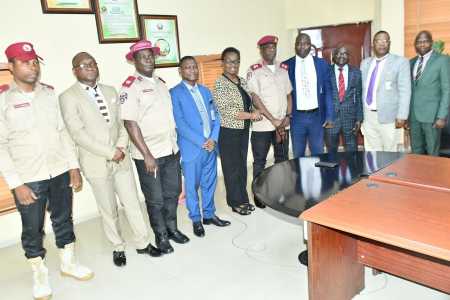 Story of the week
LANDMARK UNIVERSITY RECEIVES NEW FRSC KWARA SECTOR COMMANDER