LANDMARK UNIVERSITY MOVES TO PARTNER EXPERT ON TECHNOLOGY INCUBATION CENTRE
Preparatory to laying a formidable foundation for the realization as well as advancement of the frontier of her vision of becoming a world-class University, the Management of Landmark University on Thursday 15th March 2018 received the Director/Centre Manager of Technology Incubation Centre (TIC), Abeokuta, Pastor (Dr.) John Oni. This was geared towards charting a course for the establishment of a workable incubation model of an agro-industrial park in the University.
While speaking at the reception, the Vice-Chancellor, Professor adeniyi Olayanju, noted the importance of the incubation centre to the University in fulfilling her role in the provision of skilled manpower necessary to deploy the technological innovations relevant to the development of the society. He said: "Technology incubation programme can be seen as an economic development tool designed to accelerate the success of high-technology entrepreneurial enterprises through the provision of an array of technology business support resources and services in a controlled work environment. "Landmark University has the vision to become a leading world-class university. We are therefore, eager to embrace beneficial technologies with a view to enhancing the actualization of our goals," the Vice-Chancellor stated.
In view of a robust working relationship and heart-warming expectations, the Vice-Chancellor conveyed his confidence in Pastor (Dr.) Oni as an astute technologist with proven records of innovative milestones in his endeavours. During his presentation titled "Establishing a Vibrant Business Incubation Centre & Industrial Science Park in Tertiary Institutions", Pastor (Dr.) Oni noted that tertiary institutions do not only teach but also engage in academic entrepreneurship through quality researches and innovations that bring about job and wealth creation, and development of local products among other benefits.
He stated that the tertiary institution by this, therefore, contributes to boosting the economy of the society which largely depends on thriving entrepreneurship, innovation, research and development. Pastor (Dr.) Oni condemned the inability of many researchers to translate their findings into products as a result of the dearth of incubation centres. "A lot of people stop at invention in the university. When you look at the shelf, you see a lot of projects that can be translated into profitable ventures," he added.
According to him, business incubators are viewed as dynamic tools for fostering new ventures with the macro objective of economic development and job creation. While noting the credibility and sincerity of purpose of private sectors, towards the success of establishing viable incubation centres, Pastor (Dr.) Oni said: "Landmark University will do better not only because of the will to actualize her vision, but also because there is a high level of availability of raw materials compared to what is obtainable in the urban areas, and the top-notch facilities that would aid research and product development."
Today @ LMU
Omu-Aran, NGlight rain 21.58oC
See More >>
Subscribe to our Newsletter
Get the latest news and updates by signing up to our daily newsletter.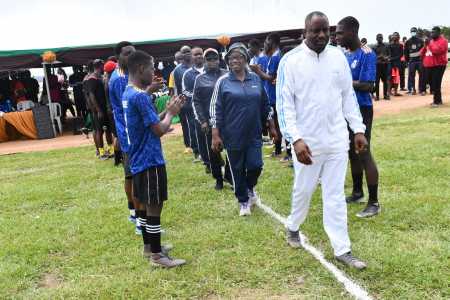 Story of the week
2022 CHANCELLORS CUP KICKS OFF