LANDMARK UNIVERSITY AND NCAM TEAM UP TO EXPAND RICE PRODUCTION
Landmark University, in collaboration with the SERiF team from the National Centre for Agricultural Mechanization (NCAM) on Tuesday 30th January 2018, flagged off the Phase II of her FADAMA Rice Production at the University's Commercial Farm. SAWAH Eco-technology for Rice Farming (SERiF) is a method of rice farming that overcomes the limitations in the utilization of the inland valleys through irrigation scheme for integrated watershed management.
Speaking at the flag off, the Vice-Chancellor, Professor Adeniyi Olayanju noted that the success of the technology at the University's Teaching and Research Farm necessitated the commitment to upgrading it to commercial-scale production. He stated that the University's breakthrough in rice production signposted her unalloyed passion for the actualization of the agrarian revolution vision.
Professor Olayanju appreciated the SERiF team led by Engr (Dr) Yinka Ademiluyi for believing in and supporting the University's vision. He also revealed that the collaboration that exists between both institutions has advanced the vision by further positioning it for the benefit of humanity. While emphasizing its contributions to the University's role of raising solution providers, the Vice-Chancellor concluded that the Phase II would not only contribute to food security but also create employment opportunities for the host community and its environs.
According to the Dean, College of Agricultural Sciences, Professor Charity Aremu, SERiF has increased rice yield in the University by 100%. She, therefore, expressed confidence that the Phase II, which would be devoid of some limitations experienced in Phase I, would have better yield.
Earlier on, while receiving the team to the Commercial Farm, the Director, Landmark University Farm (DLUF), Pastor (Dr) John Izebere, expressed the University's readiness to go commercial in rice production. He said that the University has earmarked large expanse of land and other resources towards boosting the Farm's productivity, in its drive to feed not only the immediate communities but the Nation at large.
In his resonse, Engr. (Dr.) Ademiluyi gleefully expressed his pleasure in the agrarian drive of the University noting that the vision would continue to attract specialists, the results of which had been evident in the University's giant strides. He attributed the success of the team to the strong faith base of the University and the confidence reposed in the team by the management. He prided in the efficacy of the SAWAH Eco-technology with a view to having a great result in the Landmark University Rice Production Phase II.
The Vice-Chancellor, Professor Adeniyi Olayanju, flagging off the Phase of FADAMA Rice Production at the University Commercial Farm.

The Vice-Chancellor, Professor Adeniyi Olayanju, declaring blessings over the land for maximum yield during the flag off of the Phase II of FADAMA Ric
Today @ LMU
Omu-Aran, NGovercast clouds 21.75oC
See More >>
Subscribe to our Newsletter
Get the latest news and updates by signing up to our daily newsletter.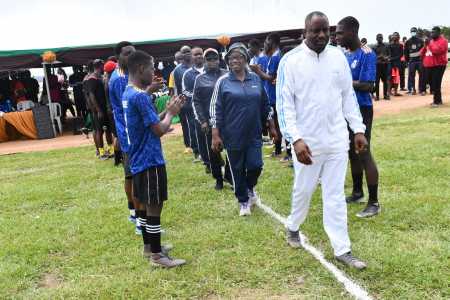 Story of the week
2022 CHANCELLORS CUP KICKS OFF