LANDMARK UNIVERSITY ACCEPTED INTO THE ORACLE ACADEMY
LANDMARK UNIVERSITY ACCEPTED INTO THE ORACLE ACADEMY
The month of June, 2017 would mark another historic milestone in Landmark University (LMU) as the Institution was accepted as an Institutional Member of the Oracle Academy.
Receiving the notification and full package from the Oracle Head Office, the HOD Computer Science Department, Landmark University, with excitement relayed the contents and benefits of the package to the office of the Vice Chancellor.
The membership into the Oracle Academy gives Students of Landmark University access to good Information and Communications Technology (ICT) education making them solution providers to global economy challenges. Also, it helps develop core and in-demand skills aligned to the newest industry trends using current technologies.
Computing has gone beyond the circle of Technological Companies and Organizations, it has been extended into the classroom and Computer Laboratories. Hence, Oracle Academy's free program offers expertly developed learning resources and world-class industry technologies for individual students and educators, and comprehensive Computer Science academic curriculum and learning resources for its member Institutions.
Other benefits of the Institutional membership of the Oracle Academy includes:
A platform for educators and students of computer science education resources to advance knowledge, skills development, innovation and diversity in technology fields.
Complete modularized academic curriculum in database design, SQL, PL/SQL and object-oriented programming with Java and other IT facilitated tools.
Free educator professional development offered in a variety of formats to make learning engaging and convenient.
Access to Oracle's industry-leading software for use in teaching and academic, not-for-profit course and degree-related research.
Access to hosted Oracle Academy Workspaces for Database.
Visibility in the prestigious Oracle Academy Directory of Institutional Members, making our Academic programs visible across Oracle Academy's audience.
Discounted Oracle University training for our Faculties and technical Staff members, to expand knowledge and deepen skills using Oracle's latest products.
Giving students everywhere access to good Computer Science education to be college and career ready in today's global economy.
Zero-cost membership while offering individual learners, educators, and educational institutions access to world-class technology, expertly developed learning materials and curriculum, training, and other resources.
…and others.
It is a great delight to be a part of the Oracle Academy community. Working with thousands of other member institutions across 110 countries in advancing Information Technology education globally, increasing knowledge, skill development, innovation and diversity in technology fields and having support for our students. We are proud to work with Oracle in advancing this vision.
Today @ LMU
Omu-Aran, NGclear sky 19.71oC
See More >>
Subscribe to our Newsletter
Get the latest news and updates by signing up to our daily newsletter.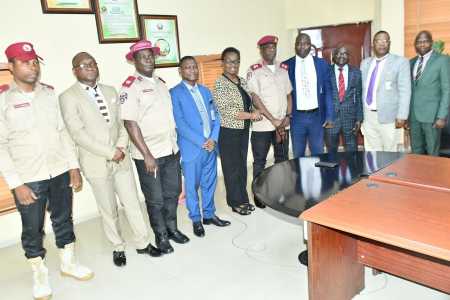 Story of the week
LANDMARK UNIVERSITY RECEIVES NEW FRSC KWARA SECTOR COMMANDER