LANDMARK UNIVERSITY VC LAUDS STUDENTS ON GOOD CONDUCT DURING EXAMINATION
The Vice-Chancellor, Professor Aize Obayan has lauded students of Landmark University on the good conduct they have exhibited during the ongoing Alpha semester examination which started on Monday 18th January 2016. The Vice-Chancellor who visited various examination centers praised the students for conducting themselves well as she attributed the success to the launch of the Zero Tolerance for Unethical Practices in Examinations in the institution. In respect to this, during the Tuesday 19th January and Thursday 21st January Chapel Services, the Vice-Chancellor appreciated the students for conducting themselves decently and showing responsibility by cleaning up their surrounding voluntarily after each examination. She described their acts as a sign of godliness and high moral values which has brought to reality the essence of the Zero Tolerance for Unethical Conducts platform. She praised the doggedness of the examination committee led by Dr. M. O. Bamiro for leaving no stone unturned in ensuring the sanctity of the Examination's process. She further affirmed Management's commitment towards attaining new frontiers in actualizing the vision of the University.
Today @ LMU
Omu-Aran, NGclear sky 19.71oC
See More >>
Subscribe to our Newsletter
Get the latest news and updates by signing up to our daily newsletter.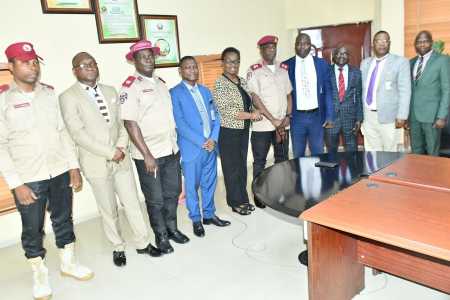 Story of the week
LANDMARK UNIVERSITY RECEIVES NEW FRSC KWARA SECTOR COMMANDER