LANDMARK UNIVERSITY TEAM MEETS MAUPE OGUN OF CHANNELS TV
In all of the world class universities and for a unique one as ours that provide the foundations for intellectual vitality, measuring difference between adequacy and excellence lies in resources available and worthy quality partnership the University is able to attract. The Partners a University play a key role in linking the University to the greater community and enriching the campus and University community through thought-provoking, entertaining, and intellectually engaging programs and resources.
The meeting of Maupe Esther Ogun of Channels Television in Abuja by the Vice-Chancellor, Professor Aize Obayan and Registrar, Dr. Daniel Rotimi could be described as, making the right friend for Landmark University that would culminate in glorious beneficial fusion and engagement.
BRIEF PROFILE OF MAUPE ESTHER OGUN
Maupe's passion for news and current affairs brought her into the broadcast industry in 2007, following an accomplished education in Lagos and the UK. She was educated at the University of Lagos and the University of East Anglia, Norwich, UK, where she got her first degree in English Language and a Masters in International Relations and Development Studies.
Maupe joined Channels in 2009 as a News presenter and Reporter where she's worked on the International desk, producing and presenting programmes like The World Today and Diplomatic Channel. She's currently a co-host on Channels' hottest news and current affairs programme, Sunrise Daily with her colleagues Chamberlain and Sulaiman. When she's not presenting, she spends her time reading, engaging in stimulating political discussions and traveling.
Today @ LMU
Omu-Aran, NGlight rain 21.58oC
See More >>
Subscribe to our Newsletter
Get the latest news and updates by signing up to our daily newsletter.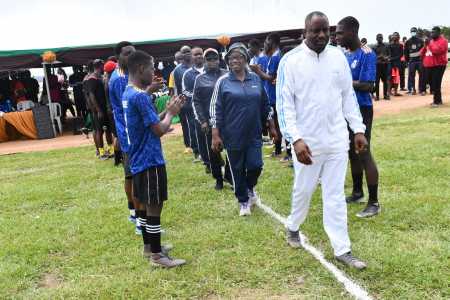 Story of the week
2022 CHANCELLORS CUP KICKS OFF