LANDMARK UNIVERSITY SET TO LAUNCH A WATER PLANT PROJECT
Another giant stride is about to be recorded in Landmark University as the institution is set to unveil a commercial water plant 'Landmark University Water' in March 2016. The project which is aimed to be launched during this year's 5th Anniversary of her Founder's Day, is expected to serve the people of Omu-aran and its environs by giving them clean and portable water. During an on-the-spot assessment to the project site carried out by the Vice Chancellor, Landmark University, Professor Aize Obayan and other members of Management on Tuesday 26th January 2016, the project was tagged the 'Nehemiah Project'. The Vice-Chancellor is optimistic that the factory will be ready for commissioning by Monday, 21st March 2016. She therefore called on everyone involved in the project to speed up the building and installing process to be able to make the commissioning date a reality. She added that when completed, the packaged water would serve the host community and other catchment areas such as Ilorin, Ado-Ekiti and Ogbomoso. She further stated that when finished the factory would be an excursion site for students in various levels of study both within and outside Omu-aran.
The Director, Physical Planning and Development(DPPD) Arc. Sina-Olulana Opeyemi and the Manager, Landmark University Development Ventures (LMDV) Mr Femi Adetifa both promised to work together earnestly and make the commissioning date a reality.
Today @ LMU
Omu-Aran, NGclear sky 19.27oC
See More >>
Subscribe to our Newsletter
Get the latest news and updates by signing up to our daily newsletter.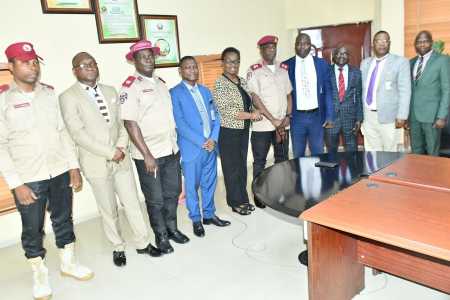 Story of the week
LANDMARK UNIVERSITY RECEIVES NEW FRSC KWARA SECTOR COMMANDER