LANDMARK UNIVERSITY SENSITIZES STUDENTS ON VALENTINE CELEBRATION
The Landmark University Community Development Impact Initiative Committee (LMU-CDIIC) held her third (3rd) counselling series at the University Chapel on February 12, 2016. The programme tagged "Health Counselling Towards Valentine" was designed to sensitize secondary school students in Omu-Aran community and guide them towards ensuring decent celebration of the Valentine's Day, 14th February.
In attendance were seven (7) secondary schools from Omu-Aran community, which included Omu-Aran High School, Government Secondary School, Government Christian College, Victory Model College, Aperan Comprehensive College, Ofe-Aran Commercial College and Landmark University Secondary School. Speaking at the programme, the Chairman of the committee, Dr Abiodun Okunola, remarked that the programme was organized to demonstrate genuine love and create awareness on the danger inherent in acts of immorality in pretext for celebrating Valentine's Day. He therefore advised students to engage in healthy relationships because the world counts on them as the promising future leaders.
One of the facilitators, Mrs Felicia Bello, Matron, Landmark University Medical Centre, spoke on some remarkable activities that characterize Valentine's Day such as exchange of gift items, sending of flowers and lots of chocolates, and many more exciting outings. She added that, in history, the highest numbers of greeting cards are being sold in this season because everyone wants to reach out to people they love. She however advised the students that in spite of their cravings for love and acceptance, there is a need to be cautious of involvement in any regrettable actions. Recounting some unpleasant occurrences, Mrs Bello said many destinies have been wrecked; some have been sexually abused while others have contracted sexually transmitted diseases (STDS) for lack of adequate perception of demonstration of love to others on the Valentine's Day.
Contributing to the enlightenment programme, Dr Mrs Joseph-Fadipe of the Department of Industrial Mathematics spoke extensively on the exemplary love of God. She said when the love of God is available to a man; there is a limit to the erring of such a man. She advised the students to make God their priority and enjoy His love because there is no greater love than His, having given himself up for the whole world. "The time at hand is to focus on constructive ways to make the best of your future and not to ruin it by entertaining immoral and ungodly acts," she charged the students.
Oluwatomisin Jegede, a participant from Landmark University Secondary School, Omu-Aran, testified to the value added to her life by the programme. She said the counselling session has greatly provided her with relevant knowledge on the subject of Valentine's Day Celebration.
Dr. Abiodun Okunola appreciated the school principals who released their students to participate in the programme. He said, "leadership is unlocking people's potential to become better", and this they have demonstrated. He assured the participants of the commitment of the University to providing more life-enhancing programmes to the Omu-Aran community.
Today @ LMU
Omu-Aran, NGbroken clouds 26.12oC
See More >>
Subscribe to our Newsletter
Get the latest news and updates by signing up to our daily newsletter.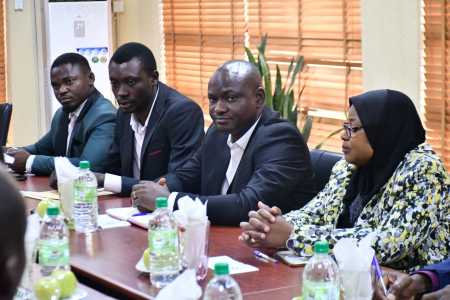 Story of the week
SON KWARA STATE SEEKS COLLABORATION WITH LANDMARK