LANDMARK UNIVERSITY RECEIVES ASSOCIATION OF DEANS OF AGRICULTURE IN NIGERIA (ADAN)
On Friday 12th of February 2016, Management of Landmark University led by the Vice-Chancellor, Professor Aize Obayan, received the Executives of the Association of Deans of Agriculture in Nigeria (ADAN). In her remarks, the Vice-Chancellor, stressed the significance of the collaboration between the Landmark University and ADAN, noting the contributions of the both parties towards the development of Africa in terms of food security and agribusiness.
Professor Obayan said that Africa is urgently in need of agricultural practitioners whose commitment to farming and attendant accomplishments would attract the younger generation to modern agricultural practices and agribusiness, which Landmark University is vigorously driving. She called for an immediate involvement of government, private individuals and institutions in tackling some of the major challenges facing the Black race such as food insecurity, malnutrition and impoverishment.
In his response, the ADAN spokesperson, Professor Sunday Fashina described Landmark University as an institution established to proffer solution to major agricultural challenges facing Nigeria and Africa. He said that the vision of the University attracted ADAN to the institution for a collaborative engagement towards repackaging agriculture to attract the younger ones. Professor Fashina also commended the institution for considering hosting the ADAN Annual Conference coming up later in the year. According to him, the aim of the conference is to equip the trainers in the agricultural sector with the adequate skills for driving youth engagement in agriculture, adding that the conference will afford the association the opportunity to partner with Landmark University and other relevant platforms committed to driving agrarian revolution in Nigeria.
Corroborating the need for urgency in making agriculture attractive to the youths, the Deputy Vice-Chancellor, Professor Enoch Oyawoye, the pioneer Dean of College of Agriculture in the University, said that engaging youths in agriculture to replace the old peasant farmers could be difficult but achievable if the concerned authorities can devise workable means to convince and attract them.
Today @ LMU
Omu-Aran, NGbroken clouds 25.33oC
See More >>
Subscribe to our Newsletter
Get the latest news and updates by signing up to our daily newsletter.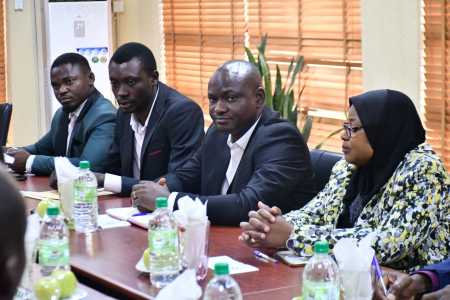 Story of the week
SON KWARA STATE SEEKS COLLABORATION WITH LANDMARK