LANDMARK UNIVERSITY KICKS OFF 2017 ADMISSION EXERCISE, 8TH JUNE, 2017
Landmark University, Omu-Aran, Kwara State commenced the 2017 admission screening exercise on 3rd June, 2017. The exercise known as Landmark University Scholastic Aptitude Screening (LUSAS) which has been scheduled to hold on all Saturdays in the month of June (3rd, 10th, 17th and 24th) witnessed an impressive turnout of qualified applicants.
Speaking on the exercise during the reception of parents of applicants, the Vice-Chancellor, Professor Aize Obayan noted that the exercise was towards identifying qualified and quality prospective students who would be admitted into the University based on merit. Professor Obayan said the University operations are world class, noting particularly the institution's zero tolerance for unethical practices academically and morally.
She emphasized that the University offers her students life-applicable education from which values for the money invested on education are guaranteed through the specialized educational system committed to students ' intellectual and spiritual advancement, uninterrupted academic calendar, world-class teaching and research facilities, as well as a family friendly mode of payment of tuition fees in four (4) instalments among others. She therefore expressed the University's readiness to always open her gates to qualified applicants across Nigeria and internationally thereby combating the national challenge of access to higher education occasioned by the persistent increase in the number of applicants to institutions annually. Parents of the applicants expressed delight over their experiences during the exercise and hoped that their wards gain admission into Landmark University.
In the words of Mrs Mute Olori from Abuja, " I am not disappointed to bring my child here today indeed what I saw on the web is not just photographs, but real. I believe upon graduation Landmark University would make my child a pacesetter." In the same manner, Mr Fabian Kponu (Lagos) said: "I am encouraged by the instalment mode of payment of school fees. It is payer-friendly and world class. " Also, Dr (Mrs) N. Nwachukwu (Lagos) said, " Locating Landmark University off the noise, the hustle and bustle of the city, is quite commendable. It will allow students to concentrate on their studies. In fact, I am astounded by the beautiful landscape, lush lawns, the spacious environment, young and impressive staff and the cutting-edge facilities. " The University therefore, calls on qualified applicants to avail themselves of the opportunity of an amazing Landmark University experience
Today @ LMU
Omu-Aran, NGclear sky 19.71oC
See More >>
Subscribe to our Newsletter
Get the latest news and updates by signing up to our daily newsletter.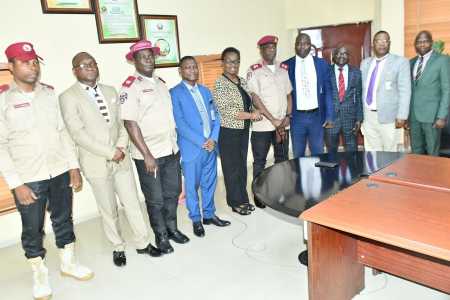 Story of the week
LANDMARK UNIVERSITY RECEIVES NEW FRSC KWARA SECTOR COMMANDER